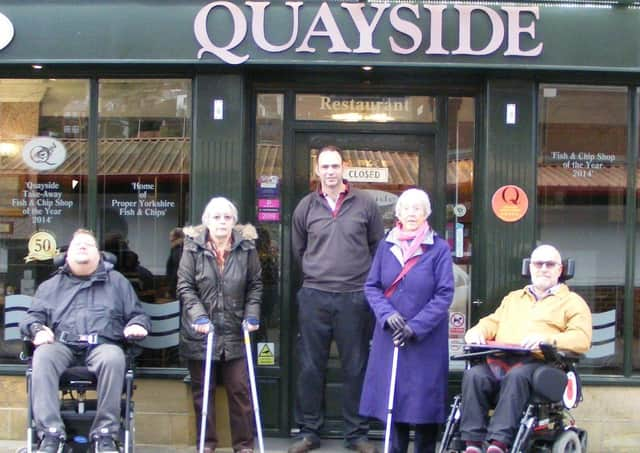 Whitby DAG volunteers outside the Quayside restaurant.
Volunteers from Whitby DAG, a local charity supporting disabled people, visited Quayside the award-winning, family run fish and chip restaurant to look at their facilities for disabled people.
Dale Milne, Jane Kent, Sally Williams and Ian Lawson were delighted with the recent improvements which include a lift and an accessible toilet on the first floor.
Whitby DAG is campaigning to make Whitby more accessible and disabled friendly by offering advice and support to local shops, businesses and community venues.
Ian Lawson, a long-time access champion, said: "Poor access is the number one issue which impacts on the daily lives of disabled people, often stopping them from enjoying a day out, going for a drink or something to eat with their family, friends and carers.
"Often the simplest improvements can make the biggest difference and need not cost a fortune."
Owner of Quayside Stuart Fusco said: "We have always catered for disabled people on the ground floor and the lift now opens up the first floor of the building, giving disabled people the opportunity to enjoy the views as well as our award winning fish and chips.
"As a family restaurant, these improvements enable us to cater for the whole family."
A recent Government audit of more than 30,000 shops and restaurants on the High Streets of Britain found that thousands of venues had failed to adapt their premises, with a fifth of shops having no wheelchair access, only 15% of restaurants and shops had hearing loops and three quarters of restaurants did not cater for those with visual impairments.
Ian Peck, manager of Whitby DAG said: "Disabled people are not asking the earth; just that businesses do what's reasonable and think more about how they can help disabled customers better.
"DAG members would be happy to offer advice on access to local businesses and can be contacted by emailing [email protected] or by calling 01947 821001."