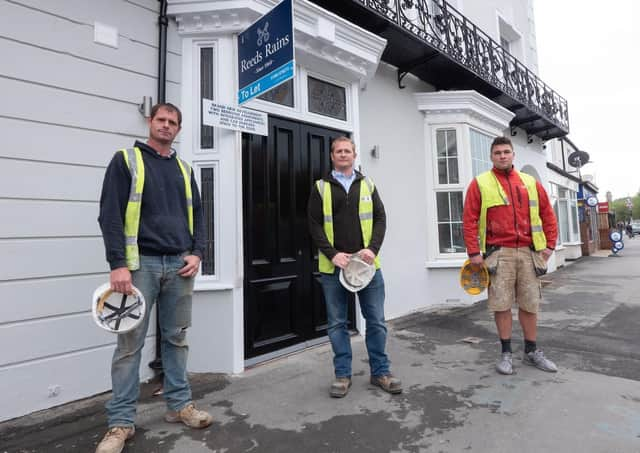 Wayne Roberts (WR Builders), Vincent Roberts (VR Property Developers), and Daniel Bradbury outside the Georgian House. The former pub has been converted into nine two bedroom apartments.
The New Crown Hotel on Quay Road has been given a new lease of life thanks to a renovation project by VR Property Developers.
The building, now named the Georgian House, is an impressive block of apartments with parking to the rear.
Vincent Roberts at York-based VR Property Developers said: "The New Crown Hotel was a maze of individual public house rooms on the ground floor followed by a load of hotel rooms and en-suites on the first and second floor.
The renovated Georgian House (the former New Crown Hotel) on Quay Road.
"Trying to follow through the architects' drawings and figure out which walls came out and which stayed was a challenge. After the first five weeks the internal shell really started to come together.
"All our developments are completed to a high specification, but on this building particular we felt we had a challenge in maintaining a top-quality standard when we had such stunning Georgian architectural features on the external envelope.
"This site was completed to a very high specification with a grey and white colour scheme throughout and heavy walnut doors with brushed stainless steel ironmongery.
"Great care and attention to detail went into this building which, now that the scaffold is down, you can really appreciate the difference.
"We used a number of local contractors and builders merchants on the project who were outstanding.
"To date we have received fantastic feedback from local residents. It appears that the public are extremely pleased to see something really nice happen to this building.
"We have found the people of Bridlington have been extremely supportive and we look forward to restoring and converting another potential development in the area.
"We should never forget the history of small affluent fishing towns such as Bridlington and how great it was to live here.
"You can clearly see this in some of the historical architectural buildings that still stand in the town.
"As lifestyles change and working from home becomes the norm, and those who like to be near beautiful beaches look for homes, we may find Bridlington becoming a more admirable place to live."
The apartments have been retained for the professional let market with all properties rented out within six days.
Reeds Rains and York Property Shop helped with the letting of the apartments.