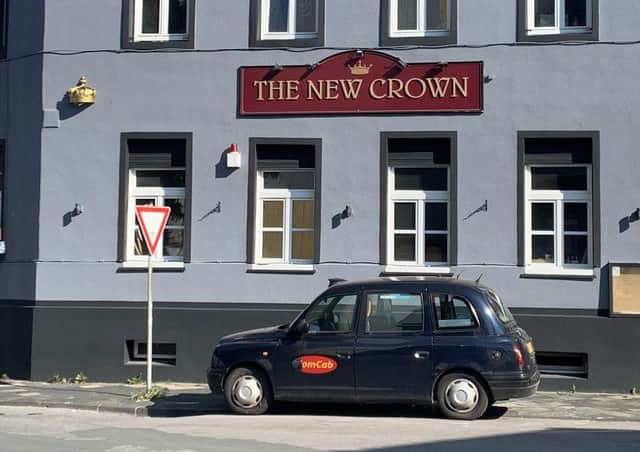 The new version of the New Crown Hotel in Iserlohn, Germany.
The New Crown Hotel on Quay Road was gutted in October last year and the bar's fixtures and fittings sold as part of a major development.
The town pub was transformed into nine impressive two bedroom apartments thanks to a renovation project by VR Property Developers.
During the Georgian House development, Paul Moss purchased all the bar equipment and fittings, including the exterior sign, with a vision to open a traditional British pub in Iserlohn, Germany.
The venue is now ready to open in Iserlohn.
The dismantled items were then loaded onto a lorry and transported to the city in the Ruhr Valley.
The work to open the new pub is now complete despite a couple of problems with fire restrictions and a flood, and Mr Moss said he can't wait to see customers frequent the bar which will be serving English, Irish and German beers.
Mr Moss, who is the owner of the Iserlohn venue, said: "We removed all the fixtures and fittings from the New Crown in Bridlington, everything connected to the pub.
"We filled up a great big container around a year ago and got some regulars from a local pub to help load the lorry. We promised to update them once we were ready to open.
Raising the bar ahead of opening.
"Iserholm is about half an hour from Dortmund in the Ruhr Valley. We have had lots of positive feedback on Facebook about the pub, both from locals and British people, as they followed our progress.
"We were due to open soon but due to a lockdown, similar to England, we have not been able to welcome the public yet.
"The lockdown restrictions run until the beginning of December and we hope to open after the restrictions are lifted.
"There's lots of excitement about the place and we can't wait to get going.
Working on the fittings in Germany.
"Because it is authentic and very British everybody is excited to see inside, which is what we wanted.
"The building work has been tough. We had to deal with fire regulation issues and then a flood – the whole kitchen had to be pulled out and the floor dried out.
"The work has been more comprehensive than we dreamt of, but we are now looking forward to welcoming customers."
Visitwww.facebook.com/IserlohnPub to find out more about the new pub.
VR Property Developers transformed the pub into the Georgian House.