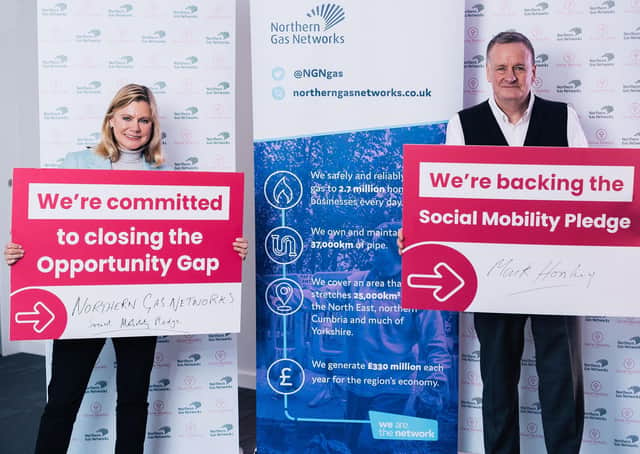 Justine Greening is pictured with Mark Horsley, CEO of Northern Gas Networks.
The plan is a practical strategy dedicated to 'levelling up' the employment landscape in this area, empowering everyone to develop their talents and fulfil their potential regardless of background or income.
○ Work closely with teachers, schools and colleges to open up more opportunities for pupils, and encourage a greater interest in science, maths and technology;
○ Work with schools and colleges to offer structured mentoring programmes for pupils and students, building skills and confidence;
○ Develop better work experience placements with more of a focus on hands-on, practical skills, ideal for young people who may not have considered a career with a gas distributor before, and
○ Lower the barriers to workplace apprenticeships so that they are accessible to a wider group of young people. For example, the application criteria for apprenticeships has for many years include being able to drive. However, if this is a barrier holding back a good candidate, GN will support them to gain a driving licence by meeting the costs of lessons and the test.
Justine Greening said: "Achieving true social mobility in Britain and levelling up our country is a huge challenge but one that businesses and universities are rising to.
"Businesses like NGN have a crucial role to play and can be an incredible force for good in spreading opportunities more evenly across communities."