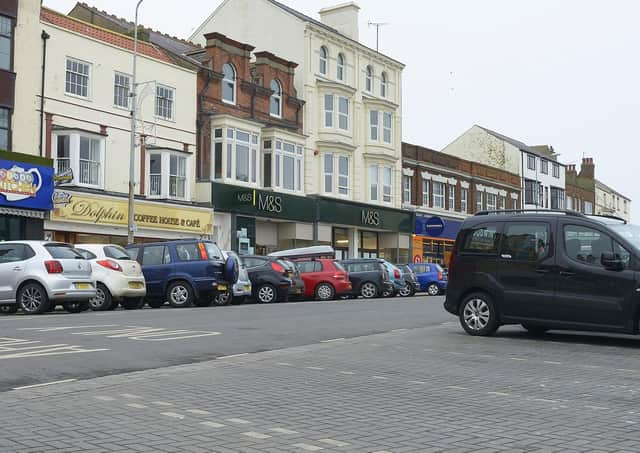 Prince Street in Bridlington, where the two new establishments will be based on the old M&S store site.
Amber Taverns has been granted licences for both The Three Brass Monkeys pub and The Monkey Puzzle Tree restaurant at 7 and 8 Prince Street, where Marks and Spencer used to be based.
The licence for the pub was granted at a meeting of East Riding of Yorkshire Council's licensing committee on Tuesday.
A report before the committee said two representations had been made objecting to the application.
Councillor John Holtby, who is on the licensing committee, said: "I understand that there may have been more people opposed to it but they didn't bring their views forward to the licensing committee.
"We felt this was a use for a building that has been empty since Marks and Spencer moved out and that it would be good for Bridlington."
All aspects of the application were approved apart from a request to play music outdoors after 11pm.
Amber Taverns intends to divide the space which used to be Marks and Spencer into two premises - one for The Three Brass Monkeys pub and the other for The Monkey Puzzle Tree restaurant and bar.
A license for the restaurant and bar was granted last month.
The pub's license allows it to sell alcohol from 10am until midnight from Sunday to Thursday, and from 10am until 1am on Fridays and Saturdays.
It also includes permission for films, live music and other entertainment.
In its application, Amber Taverns indicated the pub's opening hours would be from 10am until 12.30am, Sunday to Thursday and until 1.30am on Fridays and Saturdays.
Digital CCTV will be installed at the premises, a zero-tolerance drugs policy will be implemented and an incident book will be kept and made available to authorities on request.
In a bid to prevent disruption to the area, windows and doors will be shut during any performances, apart from entry and exit routes, and a sign will be put up asking customers to be considerate of neighbours on their way out.
The report before the committee said a planning application submitted to divide the building and for change of use is still to be decided.