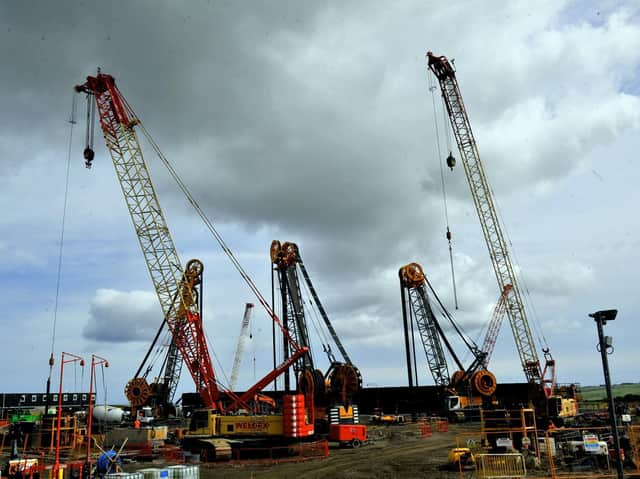 Sirius Minerals construction at Woodsmith mine. Picture: JPI Media
The group had issued an open letter to Sirius' Board and institutional investors prior to the vote stating Anglo's offer "significantly undermines the intrinsic and actual value of the asset, the business and the share price."
They urged Sirius to instead commit to a thorough exploration of other ways to raise cash, provide clarification of the precise current cash reserves and delay the Scheme of Arrangement timetable.
However, in the vote on Tuesday the takeover offer by Anglo American received majority support from shareholders and Sirius Minerals, whose headquarters are based in Scarborough and who were building the £4billion Woodsmith mine at Sneaton near Whitby, was sold for £405m.
Yashmin Ismail, founder of Sirius Minerals Shareholder Action Group, said the vote 'crystallises the huge losses for people and it gives Anglo a bargain basement price."
However, she said that the group was continuing to look into the integrity of the voting process and possible next steps.
She said: "It's not the end of the line, we are evaluating possible next steps, there's the possibility of litigation.
"Many people got caught out by the voting process. We're looking at the integrity of that process and it requires a lot of due diligence."
Yashmin said she felt they had 'put up a good fight' but she had been surprised by the stance of Jupiter Asset Management on Tuesday who chose to back the deal.
Prior to the vote Jupiter, which was one of Sirius' largest investors with a 7.8% stake, had urged the firm to pursue other funding options which would allow shareholders to remain invested in the project.
Sirius Minerals first unveiled its plans for a polyhalite (a mineral that can be used as fertiliser) mine in North Yorkshire in 2011, gained planning permission in 2015 and began construction in 2017.
Despite shares peaking at 46p in August 2016,
Sirius Minerals began to experience issues in 2018 as costs of the project grew and the firm had to find new supporters, despite a $250m investment from Australia's richest woman, Gina Rinehart.
In 2019, American bank JP Morgan agreed to provide a $2.5billion credit facility on the condition that Sirius raised a further $500m through a bond.
The bond was suspended in September 2019 and new plans to raise $600m also failed.
Anglo American made a surprise bid for the company in January of this year which shareholders voted for on Tuesday March 3.