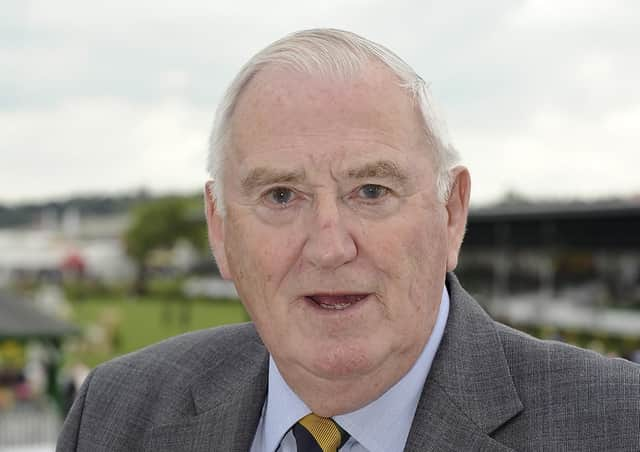 Turkey industry pioneer Raymond Twiddle OBE is pictured at the Great Yorkshire Showground in Harrogate.
Raymond's life changing moment came when he was 12 and at a country show. He asked his father for an ice cream and his father said "no lad, it is time you started making your own money"; so, he did.
He started small, selling vegetables from a wheelbarrow, and keeping hens before eventually buying 11 turkey eggs from which he hatched seven poults, rearing them for Christmas at his parent's home in Kilham.
These early endeavours led him, in 1956, to become founder of what was to become a hugely successful business, Twydale Turkeys.
When he started in the turkey industry, one million turkeys were sold annually and nearly all for the Christmas market. By the time he left the industry, 40 years later, it produced 36 million birds throughout the year, with his own firm accounting for over 10 million of those.
He was a director of J Bibby Agriculture from 1976 to 1996 and merged his company with Hillsdown Holdings in 1986, bringing together the Twydale and Buxted brands.
The merged entity supplied Sainsbury's, ASDA, Morrison, Waitrose, Tesco, Somerfield, and leading wholesalers as well as supplying all Marks and Spencer's turkey products.
Raymond also played a major role in the turkey industry as the British Turkey Federation Chairman for 17 years from 1974 to 1991.
He also had a leading role within the poultry industry in both the UK and Europe and was honoured with an OBE in 1996 in recognition of his service.
In 1969 Raymond bought the Knapton Hall Estate, where he farmed 1,000 acres and established a renowned flock of pedigree Suffolk sheep in 1972.
For 25 years he exhibited at the Great Yorkshire as well as at the Royal and Highland Shows and had champions at them all.
He started a pedigree Texel flock in 1986, and although he sold the pedigree sheep in 1996, he consistently had top price for cross breeds at Malton market.
He was also a well-respected sheep judge, particularly Suffolk sheep, across the country and in Europe.
After selling his company, Twydale, Raymond focused his energies at the Yorkshire Agricultural Society as a Council Member and Trustee and relished his role as Chairman of the charity's commercial arm which runs events, conferences, weddings and exhibitions in Pavilions of Harrogate and the Yorkshire Event Centre, the Harrogate Caravan Park, and Fodder farm shop.
His razor-sharp mind, steely determination and passion for both business and people meant the income from the facilities at the Great Yorkshire Showground grew from £40,000 to £6m during his tenure.
In 2009 Raymond was the second winner of the Royal Agricultural Benevolent Institute and Yorkshire Agricultural Society Life-Time Achievement Award, which was richly deserved in recognition for his outstanding achievements to so many organisations and the agricultural industry.
Even in the last few weeks of his life, his drive and tenacity were still evident.
He could often be found in the fields at Knapton, checking on his beloved sheep, or trying to strike a "deal" with whoever he encountered.
His unique ability to be as comfortable in a sheep pen at a market and on a factory floor as he was in a boardroom or at the highest levels of government, engaging and inspiring everyone he met along the way, will remain the lasting memory for many.
Raymond's business achievements and farming were his passion but what he was most proud of was his family. He is survived by Enid, his wife of 58 years, who he cherished and adored, and by his children David and Elizabeth and his five grandchildren.