Property expert on tour in Yorkshire: learn how he buys, sells, rents and renovates to makes his millions
Disclaimer: This article is paid for, sponsored content and does not reflect the views of ScarboroughToday or National World. People should always seek independent advice in matters of finance and investments.
Watch more of our videos on Shots! 
and live on Freeview channel 276
Visit Shots! now
Bouncing back from 100 rejections in any walk of life would be unusual but one determined couple have done it against the odds and even managed to come up trumps.
Not so long ago, partners Melvin Salas and Sofia Alpizar were constantly turned down when they tried to strike a property deal, despite putting in the hours and training to succeed in the property investment industry.
But the determined duo from North Shields somehow rescued the potentially hopeless situation and went on to pursue the careers they wanted.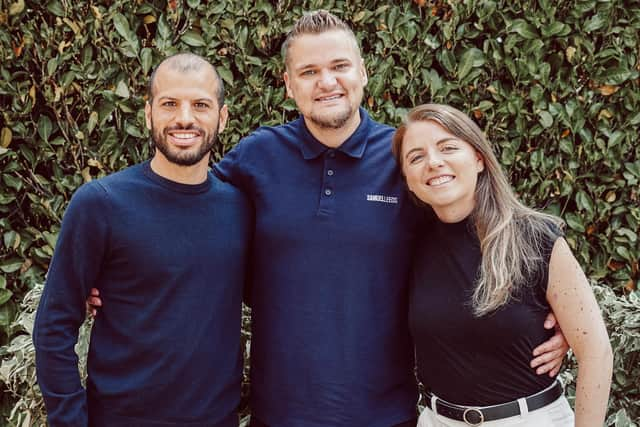 With support from Samuel Leeds's Investors Training Academy, where they both studied, coupled with their own tenacity, Melvin and Sofia say they have gone on to manage 13 rental properties as well as a profitable home staging service. On top of that, they're also starting a major development in their Costa Rican homeland.
But without the support and network available from the academy, they think the outcome could have been different.
It was in Costa Rica that the couple landed their first property deal after videos of millionaire property guru Samuel Leeds gave them the idea to buy a shop and rent it out. They made the purchase using a personal loan and mortgage and the rent covered their repayments, leaving them a small profit.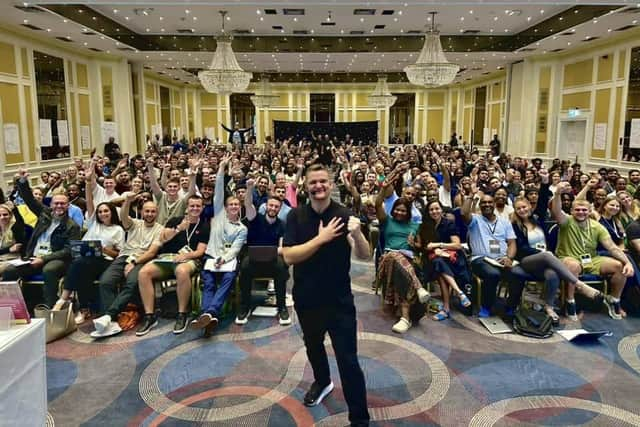 Some time later and keen to do business in the UK where they are based, the couple signed up for one of Samuel's day-long crash courses for which he charges just £1 a ticket (late cancellation/no show fees apply).
After that they joined his academy and decided that a rent to rent option – which involves renting accommodation from a landlord and then letting it at a higher rate – might be the best plan for them.
But persuading a landlord to agree a deal proved to be a major stumbling block.
"It was really hard," remembers Sofia "It took us two full months of calling, calling, calling, doing viewings and getting 100 plus rejections."
She also believes that getting used to the UK culture and business structure was hurdle because it was so different to Costa Rica and their full-time jobs left them pushed for time to make property pitches.
But, after hearing from fellow students who were doing much better, the pair decided there were no excuses and bravely acknowledged that something needed to change.
A review of their charges, new software and general streamlining followed and suddenly Sofia and Melvin were on their way. They finally struck a deal and forged a good relationship with the landlord involved which helped them to get more properties in the North East and Essex.
Property dressing pays off
Adding property furnishing and dressing – or staging – to their offer for investors has turned out to be a worthwhile sideline.
Melvin says that helping people is crucial to success. "I've noticed the more value you give to others the more money you get back. When our rent-to-serviced accommodations were not doing that great we improved them and so we're doing better. We listen to the landlord and they will tell you what they need."
Home is where the heart is
The couple's latest venture in Costa Rica is especially close to their hearts. It involves building four apartments on two plots of land with the aim of keeping two of them.
Sofia says: "We are in a rush to get to a place and that place is having the freedom not only in the passive income but also in time to be able to go as much as we can to Costa Rica."
Whatever the future holds, the pair credit their progress with the training they received. "It's thanks to the academy we've got the success we have right now," says Melvin.
Samuel is equally impressed with his two protégées. "The strategies we teach can be applied not just in the UK, but worldwide, as Melvin and Sofia have shown," he says. "They have also successfully diversified their business. Their story is inspiring."
Samuel is on tour in the UK this month and will stop off in Bradford with his Property Investors crash course. It takes place on Saturday, October 21 at Cedar Court, Rooley Lane, BD5 8HW and tickets can be purchased online.
Disclaimer: This article is paid for, sponsored content and does not reflect the views of ScarboroughToday or National World. People should always seek independent advice in matters of finance and investments.