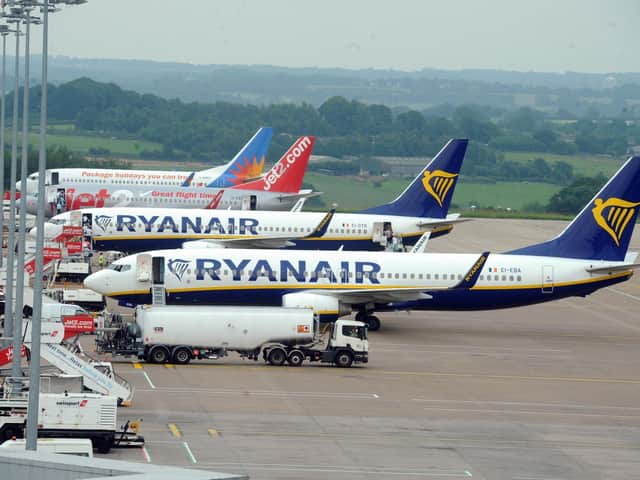 Ryanair has launched a sale on flights from Leeds Bradford Airport to five holiday destinations in July.
The airline company announced that it would start operating flights to "key holiday airports" from July 1.
There are only six airports that travellers can fly to from LBA under the current plans.
Travellers can fly to airports in Pisa in Italy, Wroclaw and Warsaw in Poland, Limoges in France, Palma de Mallorca and Malta.
Prices start from £27 for one way flights.
More flights and destinations are available from Manchester Airport.
Guests flying from Manchester can visit Czech Republic, Spain, France, Germany, Italy, Malta, Morrocco, Portugal, Ireland, Greece, Norway and Latvia.
Ryanair has chosen to ramp up flights to 40 per cent of its normal schedule after Spain announced it will welcome the return of tourists from July 1.
It has launched a sale for flights in July and August in a bid to kick-start demand for travel.
Joanna Wild, Chief Commercial Officer for Leeds Bradford Airport, said: "We're pleased to be supporting Ryanair in resuming its flight schedule for this summer and winter, offering passengers a range of exciting European destinations.
We're looking forward to welcoming travellers and holidaymakers at our airport in the coming months, and we're working closely with Ryanair, and other industry partners, to ensure the wellbeing of all our passengers."
Ryanair chief executive Eddie Wilson said: "After four months of lockdown, we welcome these moves by governments in Italy, Greece, Portugal, Spain and Cyprus to open their borders, remove travel restrictions and scrap ineffective quarantines.
"Irish and British families, who have been subject to lockdown for the last 10 weeks, can now look forward to booking their much-needed family holiday to Spain, Portugal, Italy, Greece, and other Mediterranean destinations for July and August before the schools return in September.
"Ryanair will be offering up to 1,000 daily flights from July 1, and we have a range of low fare seat sales, perfect for that summer getaway, which we know many parents and their kids will be looking forward to as we move out of lockdown and into the school holidays."
He insisted that all Ryanair flights will operate with new hygiene guidelines in place.
These include all passengers having to wear face masks in airports and on board aircraft, and having to ask cabin crew for permission to use the toilet facilities to avoid queues.
Mr Wilson added: "We look forward to welcoming millions of Ryanair passengers and their families back on board, and flying them on holiday as Europe's economies begin to recover from these difficult recent lockdowns, which have been so successful in reversing the spread of the Covid-19 virus."
Other airlines have also announced plans to boost flight numbers.
EasyJet announced last week it will resume flights from June 15 with a mainly domestic schedule in the UK and France.
British Airways is due to launch "a meaningful return to service in July", while Jet2.com is to resume its flight programme at the beginning of that month.
The UK is to impose a 14-day quarantine requirement for anyone arriving in the country from June 8, but the rules will be reviewed every three weeks.
Health Secretary Matt Hancock previously warned that foreign holidays for UK residents are unlikely this summer.
A message from the Editor:
Thank you for reading this story on our website. These are challenging times but the team at the Yorkshire Evening Post need your support more than ever in the weeks ahead.
While I have your attention, I also have an important request to make of you. In order for us to continue to provide high quality and trusted local news on this free-to-read site, I am asking you - wherever possible and providing it is safe for you to do so - to also please purchase a copy of our newspaper.
Inevitably falling advertising revenues will start to have an impact on local newspapers and the way we continue to work during this period of uncertainty. So the support of our readers has never been more important as we try to make sure that we keep you connected with the city you live in during this time. But being your eyes and ears comes at a price. We need your support more than ever to buy our newspapers during this crisis.
Our team of trusted reporters are working incredibly hard behind the scenes- from kitchen tables and spare bedrooms - to look at how we can do this and your continued support to the YEP will help to protect its viability in the days and weeks ahead.
For more details on our subscription offers please visit www.localsubsplus.co.uk/YEP, email [email protected] or call us on 0330 4033004