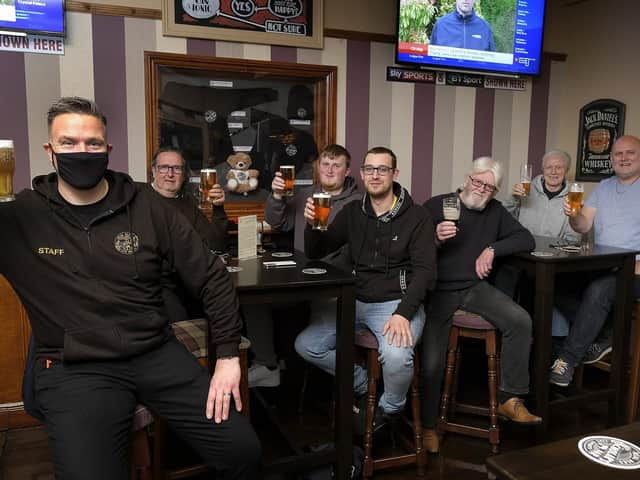 Landlord Danny Smith, left, celebrates with customers at Scholars Bar.
Monday saw dozens of hotels, bed and breakfasts, pubs, restaurants, cafes across the borough open their doors for the first time in months, as well as cinemas, musuems, theatres, soft play areas and visitor attractions.
Up to six people or two households can now meet indoors, and up to 30 people outdoors, and guidance for close contact between friends and family has been updated, with people finally able to choose to hug others outside of their household.
Lord Nelson landlord Peter Day serves Mark and Elaine Haston.
For Danny Smith chairman of Scarborough Pubwatch, this week has been the first time he has been able to open his pub Scholars Bar, on Somerset Terrace, since November.
"You always wonder if your regulars are going to come back but it was good to see them coming out to support us after six months away," he said.
Peter Day, landlord at the Lord Nelson Hotel on Foreshore Road, said: "We had quite a lot of regular locals who came back on Monday. Judging by the amount of people we saw who had suitcases with them, the hotels must have done well.
"It was a good atmosphere. Everyone was glad to be sat inside."
Natalie Foster ready with tickets at the Stephen Joseph's box office.
He said reopening has been a challenge, with Government rules meaning he has had to hire twice as many staff as before the pandemic to carry out table service but he can only have half as many customers inside.
But he said he and the rest of the team were very pleased to be back.
"Everyone was enjoying themselves and hopefully this weekend will be good," he said.
Guests Shaun Harrison and Katerina Christou are served by Stephen Dinardo at Eat Me.
Mike Squires, who took over The Denison Arms at East Ayton with Chris Flynn just before November 2020, said: "Monday was really good, a massive relief really to have people back in the pub.
"I think going abroad isn't going to be that appealing considering most of Europe is in amber so I think it's going to be a busy summer, which we're looking forward to!"
The Stephen Joseph Theatre reopened its doors to the public on Monday, with its first live show, The Greatest Play in the History of the World, beginning the following day.
The cinema reopens on Tuesday May 25 with a fortnight of Oscar-nominated films.
'Optimistic, Not Complacent'
Martyn Hyde co-owns Eat Me Cafe at the theatre with his husband Stephen Dinardo. He said: "We're optimistic, but we can't be complacent.
"We've had a fair amount of bookings, the theatre is an amazingly Covid-secure place to be. People are checked at the bottom of the stairs as they come in and checked again when they get to us."
Emma Barrington, from Love Brew Cafe on Eastborough, said: "We've continued as a takeaway for most of the recent lockdown period and been really lucky to receive support from our local customers and visitors.
"It's been great to keep the momentum going but we've really missed the atmosphere of a bustling cafe."