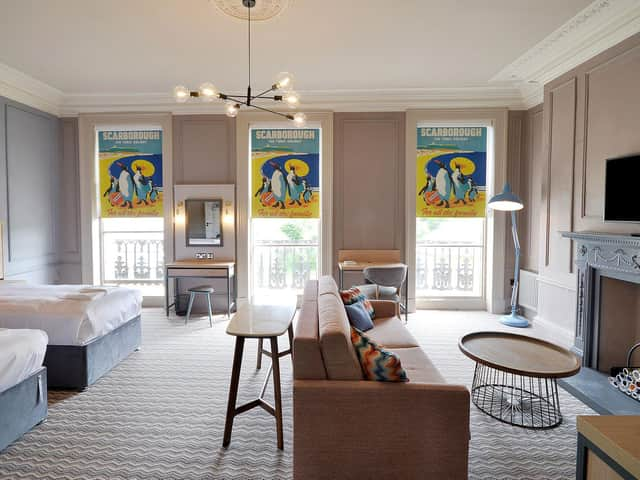 Inside the Bike & Boot Inn, Scarborough.
The property, which was acquired in January 2019 by Simon Kershaw and Simon Ratigan, has been completely overhauled and rebranded into a new and unique 65-bedroom hotel, Bike & Boot Inn.
Prior to the Government's lockdown announcement, the company bought the majority of the materials needed to finish the work.
Contractors and workers were kept separate and put to work on different floors to ensure safe social distancing was maintained.
Encouraging people to have a 'dirty weekend away', the new hotel offers a modern and relaxing leisure escape for walkers, cyclists, surfers and dog owners.
The ski chalet chic facilities include secure bicycle storage, drying rooms (for surfers) and a dog washing room for muddy pups.
As well as a bar and grill restaurant there is an in-house film club and a private guest retreat to enjoy complimentary tea, coffee, cold drinks and cake.
To protect the health and wellbeing of staff and guests during the coronavirus pandemic, Bike & Boot have implemented some extra precautions.
These include contactless check-in and payments, minimised contact and increased hygiene measures.
Simon Kershaw, Co-owner of Bike & Boot Inns, said: "It goes without saying, this has been a trying time for every business, so to be almost ready to open our hotel doors is absolutely fantastic. Everyone who has worked on this project has put a real graft in to see it through to completion and I really can't express my gratitude enough.
"We can't wait to welcome our first guests and let them experience all the fantastic facilities at our not-so-ordinary boutique hotel in Scarborough.
"Hopefully, this is the first, of many Bike & Boot hotels."
As part of its grand opening, Bike & Boot is running an exclusive promotion - £59 per room, per night. Just quote 'MUCKOFF' when booking online.
The promotion ends on August 31 this year and can be used for stays in July, August and September.
Click here to book your stay at the new adventure-seeking, dog-loving and free cake giving hotel.