Sean Bean's Yorkshire Day battle cry film is epic postcard for God's own playground
A TATTOOED long-haired biker takes a pit stop in the elegant surroundings of Bettys Cafe Tea Room where he reads The Yorkshire Post.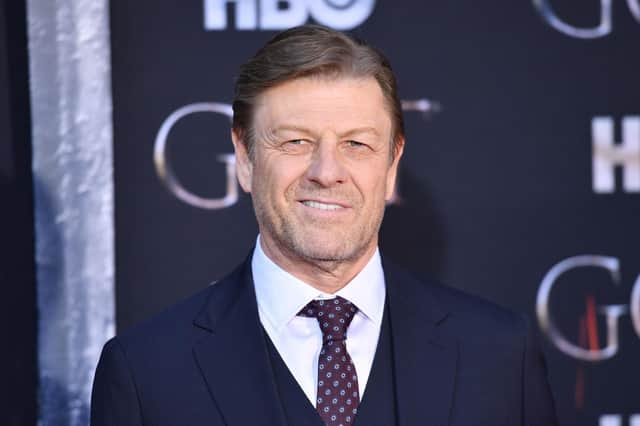 Sean Bean. Photo by Angela Weiss:AFP via Getty
"Take time out for a charming afternoon tea with news you can trust," booms Mr Yorkshire Sean Bean, in a voice over for an epic new video postcard promoting God's Own Country.
It may not be the stereotypical marketing image of life in the UK's biggest and greenest county.
But as the King Of The North says, you can trust us - diverse Yorkshire has always been so much more than flat-caps and whippets, writes Graham Walker.
WATCH: Project Yorkshire: A Playground Like No Other, addresses all that as a modern cinematic love letter to the county and a calling card to the rest of the world, which premieres online on Yorkshire Day, Monday, August 1, 2022 – at www.projectyorkshire.co.uk
A second stage will see the launch of an online bank of Yorkshire marketing assets including stock footage video clips, images and artwork that can be used in digital and printed marketing materials across social media channels and on TV and radio.
It's not just about tourism – but a bid to help unite the county, to put Yorkshire on the map as a 21st century global powerhouse.
This visionary film, a post-pandemic campaign, is a celebration of why Yorkshire really is the greatest place to live, work, invest and study.
It is the brainchild and was lovingly made by award-winning home grown filmmakers Scott Elliott and Sid Sadowskyj, who have previously worked on some of Hollywood's biggest movies and commercials of the past two decades and are best know for their coming-of-age debut feature, called Scott and Sid - their own inspirational true life story.
After tossing a coin to decide whose name was billed first, it went on to win Best British Film at the National Film Awards UK 2019.
The self-confessed dream-chasers, who met at school in Bradford, cut their teeth with Peter Jackson on his Lord Of The Rings prequel series The Hobbit - including helicopter scouting missions in New Zealand and an introduction to Red Digital cinematography cameras, which sparked an early desire to create an epic view of Yorkshire.
Yet it wasn't until the first lockdown that they paused to turn their storytelling focus on the county.
Beautifully filmed their video puts the region's cityscapes, popular tourist spots, key attractions and local businesses in the spotlight, promoting Yorkshire as an industrial powerhouse and world-class destination.
Quaint villages, towns steeped in history and vibrant cities, World Heritage sites, National Parks and Jurassic coastline - the film paints a grand picture.
It celebrates its cultural and sporting icons, literary giants, pioneers, innovators, daring scientists, courageous entrepreneurs and leaders of industry who pave the way to a better future.
The film, of which The Yorkshire Post is a proud media partner, is at the heart of Project Yorkshire - a post pandemic campaign by Scott and Sid, with support of local authorities, businesses and others, to fly the flag and attract visitors, students and investment back into the region.
Afternoon tea with news you can trust, says Sean Bean, as he narrates a scene of a Yorkshire Post reader in Bettys Cafe Tea Room
The 37-year-olds have invested their own money, with backing from local councils, including Bradford, Calderdale, East Riding, Harrogate, Hull, Kirklees, Leeds, Scarborough, plus North Yorkshire Growth Hub and Marketing Humber.
Businesses and universities have also invested in the film, amongst them Direct Line Group, Hilton Products, Hunters and Siddall, Howarth Timber, Kirklees College, Masons Gin, Sands Wealth Management, Shipham Valves, University of Hull and Leeds Trinity University.
Sid explained: "We want to unite the region, our businesses and councils to make a collaborative effort to strengthen the value proposition of Yorkshire.
"This is a clear message to people both nationally and internationally that God's Own County is back open for business, and we have lots to shout about.
"We have always been extremely proud to be from Yorkshire and we often 'fly the flag' for the county when we're on set at other locations across the globe.
"When the news started reporting on the devastating impact the lockdown was having on local businesses and the economy, we knew that someone needed to step up to help our county, our residents and businesses, to emerge stronger."
Film makers Sid Sadowskyj and Scott Elliott. Photo by Tony Johnson
Grit, sweat, tears. We get things done. We embrace change and the challenges ahead, narrates Sheffield's own Hollywood A-lister and recent BAFTA winner.
As Bean started voicing the script in the studio it was a fist-bumping moment for Scott and Sid - they knew they were on to something magical.
"Sean was our first choice for narrator. Being a Yorkshire man himself with an iconic accent, not to mention his role as King of the North in Game of Thrones, there was just no one better for the job," said Sid.
"It's been a huge honour to work with him on this project as it's clear it means just as much to him to champion his home county as it does to us."
It is hoped a #shareitforyorkshire hashtag will help the video go viral.
"We want Yorkshire folk to be proud of it, share it on social and make it a viral success, so we are giving the film away for free," Sid explained.
"We wanted to create more than just another tourism advert or business investment video, so we contacted some of our associates in the industry, including Hollywood composers, storytellers and writers to collaborate with us.
"In an 'Avengers Assemble' style moment, we came up with a concept for a campaign centred around the film. We are confident it will put Yorkshire on the map globally.
"The approach meant ripping up the rule book on destination marketing and signals a move away from the status quo way of promoting the region."
Don't talk about it - just do it, might sound like another blunt Yorkshire saying.
But Sid says it was in fact the best advice they were given by Peter Jackson when they teamed up with him on The Hobbit.
"It was amazing experience and it exposed us to Red Digital cinema cameras. We went on to use them to make Red Bull and Toyota adverts. They have been instrumental to my career. Tech moves on. Drones and helicopter cameras are now all possible and views of Yorkshire from above are something else."
Yorkshire's rugged coastline
Driving through Yorkshire's beautiful countryside in the new film narrated by Sean Bean