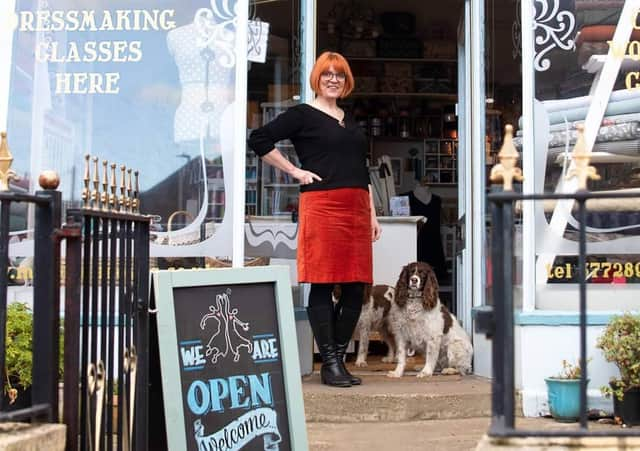 Thanks to the Yorkshire Coast Business Improvement District (BID), ShopAppy.com comes free for 12 months to these coastal towns, from September 7.
Since full lockdown, most UK shops are now open for business but ShopAppy says 61 per cent feel less comfortable shopping in store than before lockdown and 18 per cent of people are not keen to return to small High Street businesses until a vaccine is developed.
ShopAppy provides a collective online shop window for every member town and village, encouraging customers to shop locally, browse and visit, book, or buy with easy click and collect after hours and home delivery.
Founder Dr Jackie Mulligan said: "We are delighted to be working in Scarborough and Whitby and partnering with Yorkshire Coast BID on the launch of ShopAppy.com platforms here.
"With our recently announced partnership with VISA helping us provide support to more small businesses across the UK, we are certain that this will provide a real and tangible benefit to local business and the community."
ShopAppy can help services, trades, B2B businesses, chefs, pop-ups, entertainers, and market stalls with bookings, click and collect, home delivery and can host virtual events to support local artists and producers to secure wider engagement.
Carol Eaves from Material Moves in Scarborough said: "My business is all about community. People come to my shop, not only for fabrics and sewing accessories, but also for classes and workshops.
"They make friends here, so my shop has become a real community hub. Since lockdown people haven't been able to visit stores so have shopped online much more.
"While that has been vital for many, it has also meant a real decline in community spirit as people couldn't meet up and talk.
"ShopAppy is an ideal mix of local business and community support with the ability to shop in one place online, but also in future will help revive the community feel."
Sue McLaughlin from Whitby Music Shop says: "Small towns like Whitby thrive on its independent traders and anything that can support independent shops at present is really helpful, which ShopAppy has done.
"We appreciate the opportunity to further promote our shop window to a wider market and look forward to developing our presence through ShopAppy."
Chair of the Yorkshire Coast BID, Clive Rowe-Evans, says: "Our decision to fund ShopAppy enabled our BID business community to maximise online sales and paved the way for ShopAppy to generously extend that offer to include all businesses across the Yorkshire Coast.
"We are delighted that this partnership will benefit so many businesses and residents during this time of change.
"Whilst it is encouraging to see people returning to our High Streets to support local businesses, it is important to recognise many who, since lockdown measures have eased, still prefer to shop online and we now have a platform which gives customers that option, also with the benefit of home delivery."
See more information and sign up for ShopAppy here: https://ShopAppy.com/