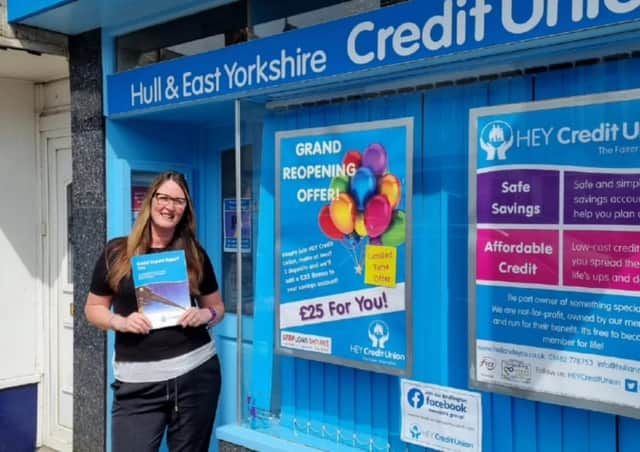 Bridlington branch development officer Sarah Hanson. Photo submitted
HEY Credit Union is also using the findings of the study to plan further expansion and help more people across the Humber region to manage their family finances.
Sarah Hanson, the Bridlington branch development officer, highlighted why the union is saving members thousands of pounds.
She said: "We have helped many members save money by ditching high cost credit from pay day lenders who charge extremely high interest rates.
"One of our members was paying out around £500 per month to credit cards. She's now paying us £145 a month for everything, enabling her to manage her finances better and not live hand to mouth."
Money management products which have proved popular at the Bridlington branch include the Family Benefit Plan, which enables members to borrow really cheaply and to save as well for holidays, Christmas, school kit or other big spends.
Sarah said: "We know the cost of bringing up a family can really add up and isn't spread evenly across the year.
"We aim to provide a welcoming environment for people from all walks of life, including vulnerable people who may struggle to obtain mainstream financial products."
As a not-for-profit mutual business with a head office in Hull and branches in Beverley, Driffield, Goole, Scunthorpe and Withernsea in addition to Bridlington, the Credit Union has more than 15,000 members and assets of £14 million.
Andy Stankard, HEY Credit Union's President, said: "The seeds for the report were sown a couple of years ago when we looked at some facts and figures and found that people had saved over £15 million in interest charges on loans by joining us instead of going to loan sharks or pay day lenders.
"Keeping that money in our local economy makes a massive difference.
"Without the credit union that money would have gone out of the Humber region. We made sure it stayed here.
"I was quite shocked when I read the report. There's nothing in it that I didn't know but when you see it all together like that and you see what we have done it's a bit of a wow!
"The common perception of a credit union is of a poor person's bank but that really isn't the case.
"Many of our members work full-time in very good jobs and they use us because they trust us.
"When the banking crisis happened in 2008-09 credit unions were not affected, because we are not in the casino gambling banking market."