String of Whitby businesses close after spike in Covid-19 cases
A string of Whitby businesses shut this weekend citing a "spike" in coronavirus cases.
Monday, 7th September 2020, 2:00 pm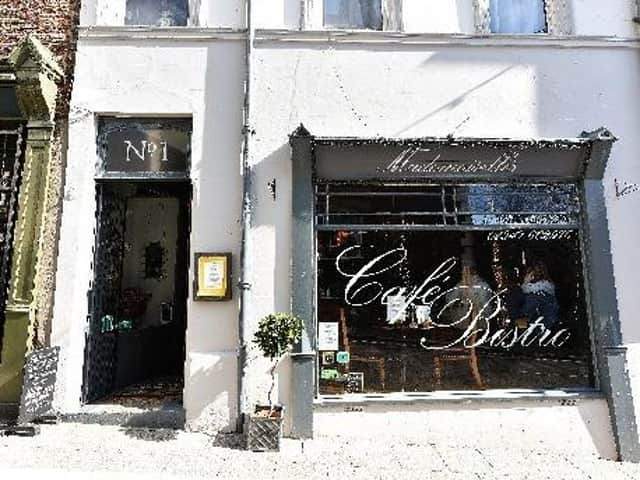 Mademoiselles, Whitby
Some closed because staff were showing coronavirus symptoms and others because workers had been in contact with people later diagnosed with the disease,
Several had not had staff or customers with positive coronavirus tests or symptoms but said they were shutting temporarily as a pro-active step.
As of Sunday afternoon, the number of confirmed coronavirus cases in the Scarborough borough since the outbreak began was 598.
Postgate Inn, Egton Bridge
That figure is 20 more than last Monday when it was 578.
The Hare and Hounds in Hawsker announced on social media on Tuesday that it was closing because one of its team members was showing coronavirus symptoms.
Later the same day, it announced an employee had tested positive for the disease and on Thursday, said that some more of their team had tested positive for coronavirus with no symptoms present.
Bothams of Whitby posted on social media on Thursday saying: "We have learned this afternoon that some of our Enterprise Way team have been in contact with friends or relations who have tested positive for Covid-19.
"As a precautionary measure, we have decided to close our Enterprise Way shop with immediate effect.
"We want to make it clear that none of our shop team are showing any symptoms of Covid-19 or are feeling unwell, but the safety of our team and customers is of utmost importance to us.
"Our shop team members will be taking a test as a precaution."
On Saturday, they said that those team members have had tests come back negative.
They said: "We can't yet announce when the shop will reopen until all the team who are eligible for tests have have their results back, but this is positive news we thought it important to share."
The Postgate Inn in Egton Bridge, near Whitby, said it was closing for Saturday and Sunday because a worker who does not work directly with customers had tested positive for coronavirus.
"Although after seeking professional advice from both government and brewery we have been told that we are able to remain open, our foremost concern as always is with our staff and customers," they said on Facebook.
"We have made the decision today (Saturday) to close for 48 hours to allow for a thorough and extensive deep clean as a purely precautionary measure for our own peace of mind.
"This period will also allow time for all members of staff to be fully tested before we re-open in 48 hours time."
Whitby bistro Mademoiselle's said it had shut because of a coronavirus outbreak.
They posted on social media on Saturday: "On Thursday morning, as a precautionary measure, we took immediate action and closed the bistro as several members of staff developed cold symptoms.
"We were all tested that day - in various places throughout the county and beyond.
"We have just started getting results back and are completely devastated to learn some have returned positive.
"We are currently in the process of contacting our customers and relevant authorities.
"Some staff members have driven considerable distances to get the same day test and we are extremely grateful to them."
Dalewood Trust announced on Saturday it was shutting the Coliseum Cafe.
"Unfortunately it has come to our attention that a customer who should have been self-isolating due to mixing with staff from another establishment where there has been positive cases of Covid-19 tests come back has been into our Coliseum Cafe at the back end of the week," it posted.
"We are following Government guidance and advice from Public Health England and therefore our Coliseum Cafe has closed its doors for now as a precautionary measure and is having a very thorough deep clean.
"All our staff who have been working in the cafe are been tested for Covid-19."
And yesterday, Coast Cafe Bar at Northcliffe Holiday Park in High Hawsker announced one of its team had tested positive for coronavirus and it would be closing until further notice.
It posted on Facebook: "Anyone who has visited us will know we have taken every precaution that we possibly could to mitigate the chances of spreading the virus, and we have been as diligent as we can in ensuring the safety of our team and customers.
"Unfortunately, the team member affected had just joined us, and worked two four-hour shifts, Monday, August 31 and Tuesday, September 1, with another visit on Wednesday, September 2 for around an hour.
"When their previous employers found out that staff members there had positive symptoms, we instructed our new employee to self-isolate, as per the current guidance.
"Even though they showed no symptoms, they drove for a test, which came back positive today at around 1.30pm.
"At the time of this posting, they have since lost their sense of taste.
"We immediately closed our doors, and notified the Environmental Health Officer, who we will be liaising with, to form an action plan moving forward.
"Nobody else in our team is showing signs of any symptoms, but we will all be self-isolating for seven days as per guidance."
Meantime, on Saturday several other businesses announced they would be shutting as a precautionary measure despite not having any staff or customers with coronavirus symptoms
Restaurant Cosa Nostra said: "Sadly due to the recent spike of Covid-19 cases in the hospitality trade in the Whitby area we have taken the toughest of decisions to close our doors to get all of our staff members tested.
"While there are no symptoms at present we still want to air on the side of caution and make sure all of our staff and customers are safe."
Also closing as a preventative step were the Endeavour in Whitby, Rusty Shears tea room, Mr Cooper's Coffee House, NFU Whitby, Stokers tea room, Whitby Insurance Services, Arnold Palmer Putting Course and the Black Horse on Church Street.