Take a walk on Scarborough's wild side at the new cheesecake shop on Falsgrave Road
A new shop has opened on Scarborough's Falsgrave Road which specialises in artisan cheesecakes.
Thursday, 29th April 2021, 1:17 pm
Updated
Friday, 30th April 2021, 8:53 am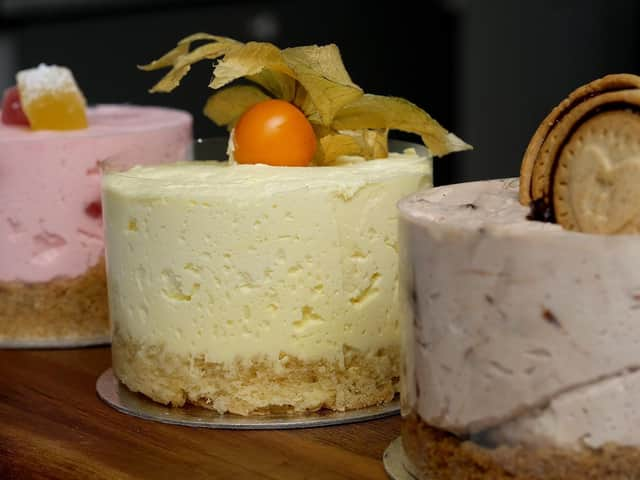 Looks delicious
Wild Cheesecakes is the brainchild of John and Nicola Ellis-Nichol, who sold their home in Nottinghamshire to turn their dream of running their own business into a reality.
The couple decided on the move at the start of the pandemic.
They had been on holiday in York when the first lockdown was announced,
Nicola Ellis-Nichol shows off some of the cheesecakes
After many previous holidays in Scarborough John, 56, and Nicola, 53, decided to do up their property with the intention of moving to the town.
What they didn't expect was that the house would sell within 24 hours and all of a sudden things were moving much faster than anticipated.
John, a former miner, said: "I was always making stuff and I saw a chap on YouTube making cheesecakes and thought I'd give it a try.
"Everybody loved them and it became the seed of an idea.
The Wild Cheesecakes Shop
"Originally, we were going to go into the market hall, but then we saw the unit and it was perfect.
"We have a passion for finding interesting flavours, tastes and textures. We are influenced by the change in the seasons and like to use local produce as best we can.
"I love experimenting with different flavourings and adding ingredients that are different from the norm.
"We have about 100 flavours available with a mix of eight flavours available at any one time."
The couple can also produce bespoke birthday cakes with just 48 hours' notice.
At present the shop runs a takeaway only service. It is open from 10am-5pm Tuesday to Friday and 9am-2pm on a Saturday, but may close earlier if stock runs out.