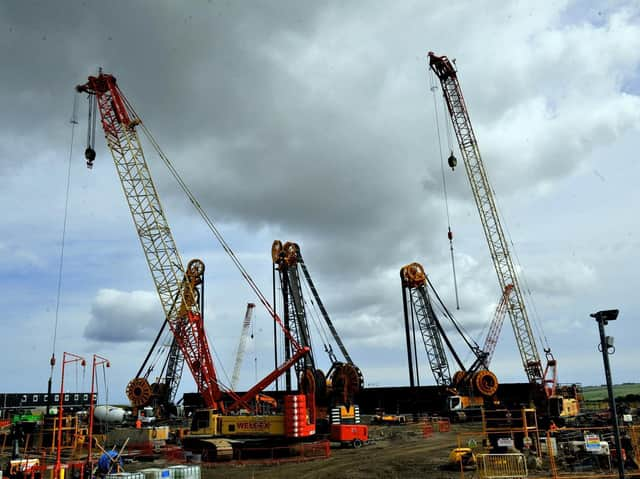 The Woodsmith mine site. Picture: JPI Media
The firm has confirmed they intend to develop the project roughly in line with Sirius' revised plans, with investment of around $300 million for the first two years following completion of the sale.
They then expect a further $2.7billion investment to develop the project to a production level of 10 million tonnes of polyhalite per year.
The result of yesterday's vote provides greater certainty for Sirius' current employees and creates potential for additional employment as the project moves forward once more.
Anglo American set out their intentions for the future of the project in their offer announcement made on January 20.
What will happen to the project?
In the offer they stated that although they intend to develop the project in line with Sirius' plans, Anglo also intend to update the development timeline, optimise mine design and ensure integration with its own operating standards and practices.
As a sign of its intention to support the sustainable development of the communities local to the mine project, Anglo American stated it intends to to make a voluntary contribution of £4 million to the Sirius Minerals Foundation, with £1 million to be paid on completion of the sale and a further £1 million to be paid on the anniversary of the sale for the next three years
What will happen to staff?
In the offer the firm acknowledged the skill and experience of Sirius' management and employees which they said would be important going forward.
Anglo American added it does not expect to make any material change in the conditions of employment of Sirius employees, unless otherwise agreed with the relevant employee.
It also intends to support the Sirius management team in order to proceed with the development and does not expect to reduce the headcount of existing staff.
It intends to continue to support Sirius' existing engineering apprentice scheme.
What will happen to the Scarborough headquarters?
Sirius currently has a head office in Scarborough with a small registered office in London.
In the offer Anglo American said it intended to maintain Sirius' Scarborough headquarters but to close the London office.
It is expected that, upon completion of the takeover, each of the non-executive members of the Sirius Board shall resign from their office as a Sirius Director