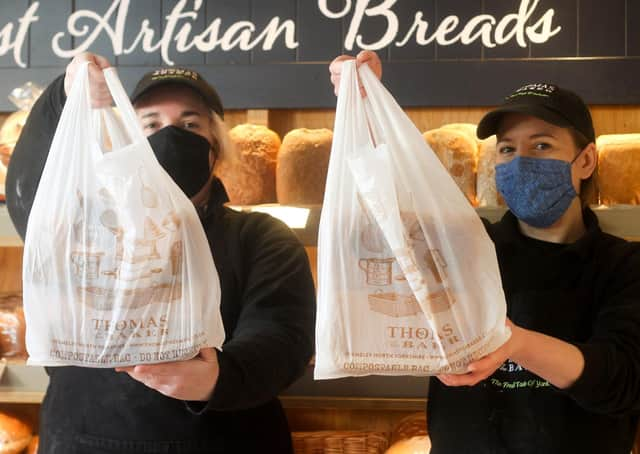 Thomas The Baker's new compostable carrier bags. Photo submitted
Replacing all of its plastic carriers from this month, the company will instead be offering customers TUV-certified compostable bags made from potato starch – a first in the industry.
The waterproof material, while strong enough to carry substantial weight and to be reused multiple times, is made with 100% compostable material which breaks down into just three products – water, CO2 and biomass.
Even the ink used on the bags is water-based.
Customers are being urged to reuse their bag as usual, but once it is no longer fit for purpose they should put it in their home compost bin.
The bag can also be used to line food waste caddies.
Thomas the Baker distributes approximately 350,000 carrier bags per year, meaning this could make a big impact in terms of reducing its carbon footprint and minimising its use of plastic.
The company has been working hard to make their processes as environmentally friendly as possible over recent years, working towards 100% green packaging.
Paper bags are used where possible to allow them to be more easily recycled.
Simon Thomas, general manager at Thomas the Baker, said: "We've been investigating compostable carrier bags for a long time trying to find the right product.
"The bags are three times the price of traditional plastic which is presumably why they're not widely used, but we felt it was important to make a stand, and we believe we're the first bakery to do this on any scale.
"The message should always be to reuse items as much as possible and we chose these bags because they are strong and practical but they'll also completely compost down in a home compost or industrial composting facility. There is some education to be done around the bags as they're a fairly new idea.
"These are not the same as biodegradable bags – biodegradable bags are often still plastic based, whereas compostable ones are made with natural plant starch and will actually benefit your flower beds!"