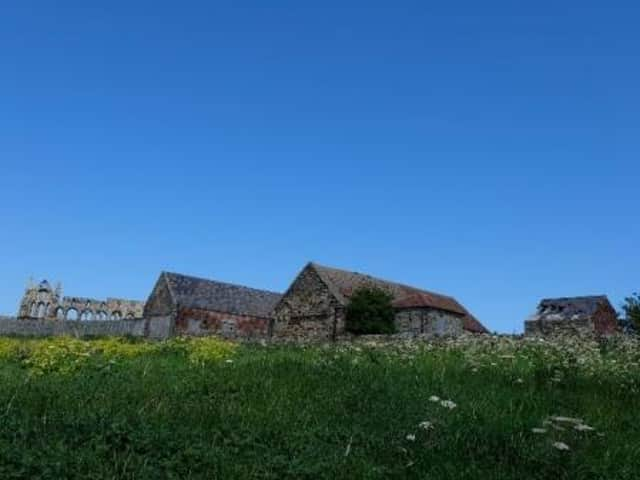 The buildings that Whitby Gin will be setting up in, if they get permission, which is expected.
Whitby Distillery, makers of Whitby Gin, was founded 2017 by Jessica Slater and Luke Pentith, who have grown their business from a passion project to one which is stocked in more than 300 outlets across the UK.
The gin is crafted using hand-foraged botanicals from the Yorkshire coast and moorland and more than 600 bottles of it are sold every week.
Having moved their operation out of the town as it started to grow, the pair are now looking to move up to Whitby Abbey by renovating empty buildings on Abbey Lands Farm.
As well as the distillery the plans include a visitors' centre.
A planning application was submitted to Scarborough Council earlier this year and on Thursday (Sep 10), the authority's planning committee will meet to decide on the scheme's fate, with planning officials recommending it be approved.
The plans will see two derelict barns renovated and the company also intends to give tours of the site to visitors.
Speaking to the Local Democracy Reporting Service in June, Mr Pentith said the business had been looking for its "forever" home and believes it has found it on the farm.
He said the business would be sympathetic to its surroundings and has the support of English Heritage and Natural England.
He said: "We promote Whitby's culture and heritage to a wider audience and that means that our goals as a business align with their core foundations as a charity to inspire the future guardians of Whitby to care for these properties."
He added: "The site has these incredible views of the Abbey, the town, the moors and the sea and no-one gets to see it as the area is closed off at the moment.
"We want to use the area for people to be able to take tours and also host small events up there.
"We can also start recruiting people to allow them to learn how to distill, it will all be local people who will be new to the industry that we will train up. The plans are designed to allow us to scale up as the operation grows.
"Another thing we want to do is to work with local colleges and universities and just encourage people to take an interest in small scale manufacturing from a small business like ours using traditional methods."
No objections to the plans were received by Scarborough Council.