Whitby's Nature's Laboratory shortlisted for five regional business awards
Nature's Laboratory, a company researching and making natural medicines in Whitby, has beenshortlisted for five regional business awards.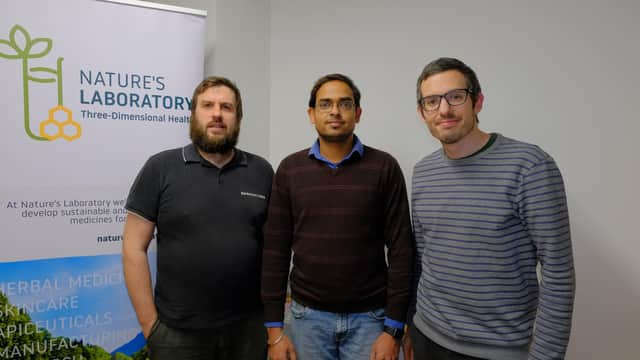 - Technology and Digital Award - Scarborough News Excellence in Business Awards
- Rural Business of the Year - Scarborough News Excellence in Business Awards
- Best Business Transformation - Scarborough News Excellence in Business Awards AND Yorkshire Post Awards
- Small Business of the Year - Yorkshire Post Awards
They will be facing stiff competition from larger and nationally recognised companies, such as delivery firm Evri in the Best Business Transformation category.
Dr Shankar Katekhaye, Director for Quality & Research at Nature's Laboratory said: "Our whole team has worked tirelessly this year, in what have been very difficult trading conditions, and faced every challenge with optimism and enthusiasm.
"It's fantastic to see that our efforts are now being rewarded."
As well as undertaking ground-breaking research into natural medicines, the company is also working on a model for truly sustainable organisations, Threes Company, believing that to be truly sustainable, organisations need to nurture all three aspects of their being – economic, social and cultural.
Jack Barber, Managing Director at Nature's Laboratory, said: "For us, strong economic performance comes out of a strong sense of purpose and meaning as well as a strong social and community life both inside and outside our own business.
"This includes our local community as well as our wider community of suppliers, customers, and partners."
Nature's Laboratory founder, James Fearnley, is working with local and regional organisations to help them explore their model of a healthy business or organisation through the concept of Threes Company.
James said: "For Nature's Laboratory, this has meant a move away from the traditional top-down hierarchical structures.
"Our company is guided by a core group of three lead directors in a college of directors.
"We are developing ways in which all our staff - our 'working community' can be involved and share in the development of the business."
Nature's Laboratory will find out if they have won any of the awards at ceremonies on November 22 in Leeds, and November 30 in Scarborough.