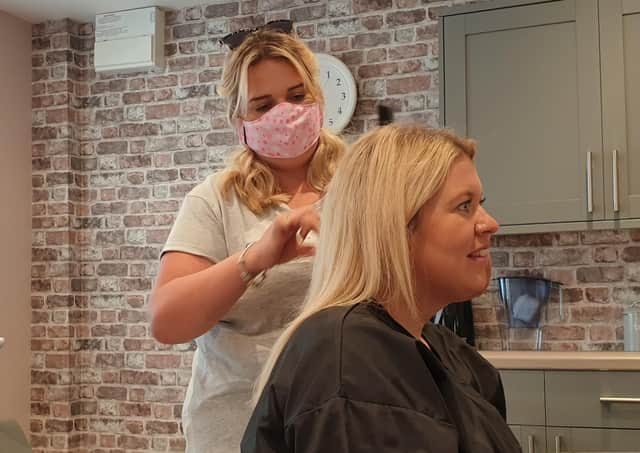 Charlotte Fletcher in action at the new Head 2 Toe premises in Ugthorpe.
Charlotte Fletcher, 22, trained at VIP's Hair Salon in Whitby before starting her own mobile business Head 2 Toe in April 2018.
After two years working in people's homes, Charlotte decided it was time for a change.
She said: "I wanted to be taken a bit more professionally, even give my clients a bit more of a luxury experience and a treat.
"Mobile doesn't offer the excitement and luxury of a visit to the hairdressers."
Charlotte looked around for suitable premises and found the perfect place for her new salon at Meadowcroft Cottage in Ugthorpe.
She said: "I wanted to cater for rural villages more, there are no hairdressing salons from Sleights through to Guisborough."
Charlotte's ambitions were put on hold when coronavirus forced her to close her doors before she had even been able to open them.
She finally got her business up and running when she opened for the first time on Monday (July 6).
Charlotte offers a range of services from gents and ladies cuts, colours and blow drys to children's trims.
She also provides waxing, manicures and pedicures.
The coronavirus pandemic has meant Charlotte has had to make several changes to the way she works.
She will have to wear a mask for each client and has left a 15-minute gap between each client so she can clean the salon before her next customer arrives.
Her present customers have been eager to get a look at the new salon, and Charlotte has had to open her appointment book gradually, opening first to her regulars before welcoming new clients.
Head 2 Toe will be open from 8am to 4pm Monday, Wednesday and Friday with later finishes on a Tuesday and Thursday when she will work 8am to 8pm.