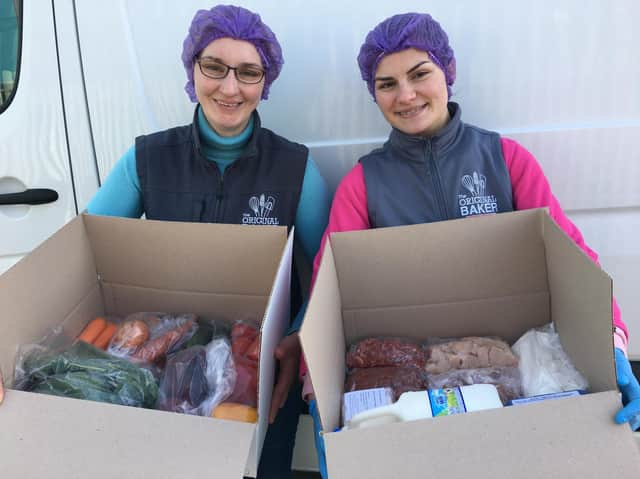 The Original Baker Dovile Vaitoniene (left) and Claudia Ciobanu (right)
They are taking advantage of the lockdown offerings from many of the area's top food experts, who have moved their focus from fine dining in hotels and restaurants to preparing artisan breads and pre-prepared meals for people to enjoy in their own homes.
While supermarket home delivery services are prioritising customers most in need and slots aren't available to everyone, many people are taking full advantage of the more local offerings that are available.
Janet Deacon, Tourism and Corporate Marketing Manager for Scarborough Borough Council and Area Director for Welcome To Yorkshire, said: "Local bakeries are working overtime to prepare and bake fresh bread, butchers and green grocers are using local sourcing networks to ensure they are well-stocked with fresh produce.
Cooplands delivering food parcels to homes and the NHS.
"They are offering services like home delivery to vulnerable people and those who are self-isolating, while the area's catering experts are making fantastic food to eat at home.
"The health crisis is opening people's eyes to alternative food sources and our local producers are stepping up brilliantly to meet demand.
"Often the businesses people are turning to are small family-run concerns, with the skills and flexibility to adapt very quickly to the ever-changing conditions.
"As an industry, they have adapted to help their local community however they can, whether it's introducing same-day home delivery for the first time, often for free, or even changing their entire production.
Nockels butchers in the Market Hall, Scarborough.
You can click here for the growing list of producers serving their communities right along the Yorkshire Coast, and includes:
* an entire 'super-market' of fresh food available from Scarborough Market Hall, including Deli Delicious, which has introduced home delivery of their whole menu
* Mark Nockels Butchers, North Yorkshire's top butcher in 2019, which has just celebrated 100 years in business
* quality greengrocers Metcalfes and Allseasons
* fishmongers John Barrow (on Saturday)
* and fresh honey from the Honeycomb Shop.
The market hall is open for food shopping, with every safety measure carefully in place, and many traders have introduced home delivery for the first time.
Scarborough Community Kitchen, a collaboration of local chefs newly formed to respond to the crisis, are providing pre-cooked meals and home-boxes of ingredients for Age UK.
Award-winning farm shops, Redcliffe Farm Shop and Trotters Farm Shop near Scarborough, and The Whole Hogg Farm Shop and Cedarbarn Farm Shop near Pickering are running online stores and home delivery
The Original Baker is delivering home-boxes of delicious, fresh ingredients, which it would normally use in its factory to handcraft luxury all-butter pastries for high-end retail
In Whitby, the family at world-famous Botham's Bakers are busy with online shoppers, whilst also delivering 'tea and biscuit' care packages of cupboard essentials.
Whitby Distillery is helping local organisations tackling coronavirus by using expertise and equipment, which would usually craft award-winning gin, to make alcohol-based hand gel instead - supplies have already been sent to the new NHS Nightingale Hospital in London.
In and around Scarborough, Glaves Butchers and Pattisons Greengrocers are doing home delivery, as are Stepney Hill Farm, whose butcher's shop specialising in rare breed meat is bringing together other local suppliers to create home meal-boxes of fresh meat and vegetables.
"While in 'normal' times, it might seem more convenient to use a supermarket, this is a great time to explore the riches on our doorsteps, championing local businesses, producers and farmers who might ordinarily struggle without the region's tourism industry to support them," said Janet Deacon.
"When the crisis is over, these businesses should be able to resume their normal routines, but hopefully have other new income streams open to them that were not there before, helping the area to come back better and stronger."
Discover Yorkshire Coast is encouraging the region's food producers and tourism businesses to get in touch and join the network of people helping their local communities during the coronavirus crisis. For more details, email disc[email protected] or click here.