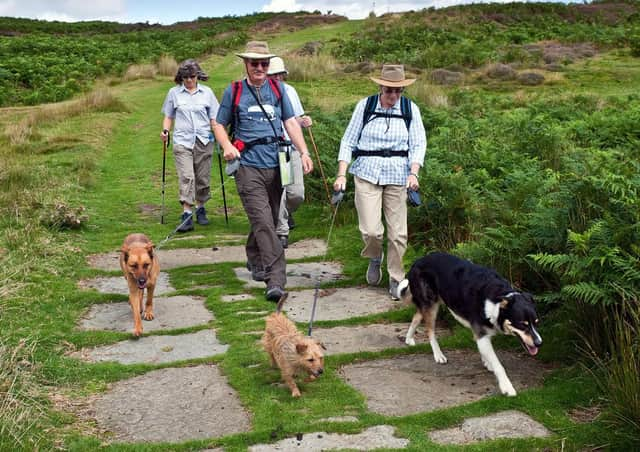 People with dogs on a lead on path at Dundale.
Livestock worrying can have devastating consequences for farm animals and their owners, as well as other wildlife.
Dog attacks on animals, especially sheep, can result in the loss of unborn lambs, serious injury and death.
Often, the stress of being chased by a dog is enough to kill a sheep and flocks have been known to severely injure themselves while trying to escape an attack.
There are also serious consequences for owners of dogs who have been found worrying livestock.
You may end up being sued for compensation and, in some circumstances; farmers are legally entitled to shoot dogs that are endangering their sheep.
The North York Moors National Park Authority wants dogs and their owners to be safe and happy while out and about, and so is urging all dog owners to be mindful of their actions.
Debbie Trafford, Head of Recreation and Ranger Services at the North York Moors National Park Authority, said: "The North York Moors is a beautiful landscape but it is also a working landscape that supports over 1,000 farmers.
"It is therefore vital that dog owners are careful and protect both their pets and the livestock who live here.
"Look out for sheep when walking your dog, and always put your dog on a lead when there may be sheep nearby.
"Responsible dog owners are always welcome, but even the gentlest family dog can harm sheep if running loose."
Debbie is also encouraging farmers to check that gates and fencing are secure and to consider using signs to let dog owners know when there are sheep in a field.
Other considerations to take
* on moorland it's important to keep your dog on a short lead (less than 2 metres) between March 1 and July 31 when birds are nesting on the ground.
* it is important to always pick up your dog's poo.
* owners should check their garden boundaries regularly to prevent dogs escaping and causing damage when unaccompanied