Braeburn Primary School carries on - and welcomes brood of chicks
Spring term has definitely arrived at Braeburn  Primary and Nursery School  where staff and children have welcomed a brood of chicks.
Wednesday, 6th May 2020, 9:46 am
Updated
Wednesday, 6th May 2020, 9:46 am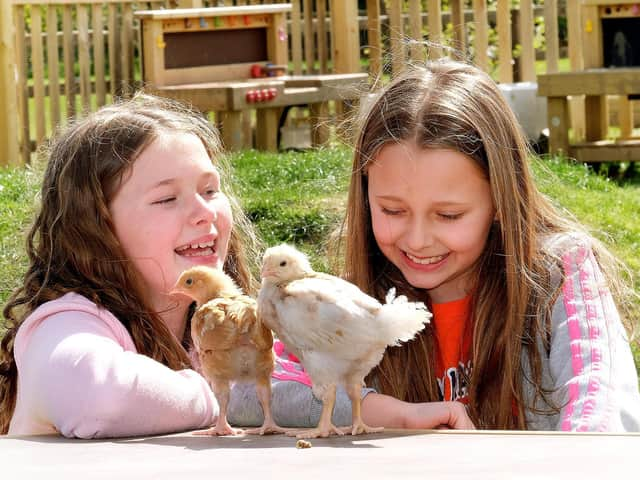 Sisters Olivia and Darcey with two of the chicks
During the week, the school, like many across the region, remains open to the children of key workers.
Up to 10 youngsters a day – while observing social distancing – have been arriving for the school day since the lockdown began four weeks ago – including the Easter holidays.
"We have been doing a range of activities, some of them amazingly creative," said assistant headteacher at the Eastfield school Trish Clay.
The staff have been helping the youngsters understand why they are at school and their friends are at home.
She said the children initially asked questions about coronavirus but were very relaxed and enthusiastic about coming in.
Braeburn caters for children from the age of three to 11. At the start of the lockdown, pupils were given home-learning packs and older children were given Chrome Books .
Through the use of a school app, children check in once a week. The school is also open for parents to call in.
The Education Secretary Gavin Williamson has announced that children of vulnerable families would be given laptops.
Braeburn was ahead of the game by already making sure those with special needs and vulnerable children were receiving the help they need.
"We have had to come up with different ways of learning which is a positive thing," said Mrs Clay.
"The children have adapted quickly and our families have been amazing in the way they have responded to what we have asked them to do.
"They have been thankful and we have been overwhelmed by their positive response," she said.
The arrival of the chicks have added a whole new element to the school day.
"Some of the children taken the chicks home to look after then at weekend," she said.
The chickens were part of a project in the nursery school. The eggs were provided by Playdale Farm at nearby Cayton and a member of staff provided the incubator.
The school is now deciding what to do with the chicks – one female and five males.