Scarborough's university a catalyst for driving East Coast economy
Connecting with the business community, being a catalyst for driving the local economy and ensuring the Yorkshire Coast is seen as a great place in which to live and work, is at the core of what CU Scarborough does.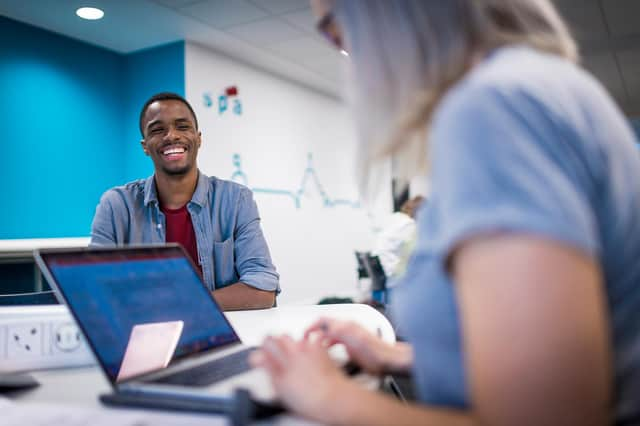 If you think university is not for you, think again- CU Scarborough is committed to providing a course that fits around you
In just six years, CU Scarborough – the town's university - has become deeply integrated in the Scarborough and North Yorkshire economy. Nurses are trained through the York Teaching Hospitals NHS Foundation Trust, STEM education is championed in collaboration with the local office of global mining organisation Anglo American, and Cyber Security students learn counter-intelligence with GCHQ, one of the UK's foremost security organisation. Public sector employees of North Yorkshire County Council have been upskilled through CU Scarborough degree apprenticeships.
"We want to be a university town and not a town that has a university," explains Clare Garrick, Head of Curriculum for Business, Law & Creative Industries.
CU Scarborough: A university committed to helping you achieve your aspirations and supporting East Coast businesses
CU Scarborough, part of the Coventry University family, responded to the need for the local and wider area to have its own university. The purpose-built state-of-the-art facility, located in Scarborough's transformational £50m sport and education campus, enhances the learning of students and is still growing.
With new investment in the library, social and sport spaces this summer, programmes under pinned by professional accreditation and employability and with a new leadership team at the helm, we are poised for a fantastic academic start after a period of uncertainly for so many.
CU Scarborough is continuously expanding its courses to contribute to the regional economy. Its first cohort of adult nursing students have graduated and gone into practice, a brand new drama studio to accommodate the acting students is fully utilised and a brand new space awaits the intake of BSC Sports Performance and Coaching students.
"We want larger industries, and SMEs to get to know us and become involved with us. Connectivity is everything," said Clare.
"We play a part in driving the community and the economy and make this a better place in which to live and work"
Helping people stay local
Through existing connections many students find placements with local firms as they complete their degrees or apprenticeships. Claire says helping people to stay in this part of Yorkshire and encouraging new people to want to come and live and work here means equipping them with the skills. Having those good relationships with companies helps people to find their career here, and means employers have the people with the skills they need for their businesses to thrive.
"This is a beautiful place to be," said Jackie Mathers, Associate Pro-Vice-Chancellor at CU Scarborough. "There are so many hidden gems."
"We want people to be able to stay and fulfil their aspirations here. We play a part in driving the community and the economy and make this a better place in which to live and work."
Studies to fit around your life
CU Scarborough's success comes from its innovative, one block at a time academic model. This accessible approach to higher education helps students fit their studies around their lives and commitments. Students have the option to study up to degree level, one stage at a time, starting with a one year Higher National Certificate (HNC). In addition to full-time degrees, part-time options, degree apprenticeships and foundation years help open the doors to people who might not otherwise think higher education works for them. Access to Higher Education courses have transformed the ambitions and lives of many local people who take a big step back into education without traditional qualifications.
"There are graduates who have said that had we not ben there they would not have got a degree and would not be doing the jobs they are doing now."
CU Scarborough graduates leave with a powerful asset: the experience of learning with practical application at its core, making them ready to launch or accelerate their careers, or flourish with further study. CU Scarborough is part of the Coventry University family, and builds on Coventry University's strong reputation for its courses and teaching, bringing in new talent from across the UK, and abroad, to develop Scarborough as a university town.
Many of its students were at the heart of the push against COVID-19, combining nursing or social care courses with personal stories of heroic efforts in the NHS. Across all courses, students and staff supported one another to rise to the physical and mental challenges of the pandemic.
CU Scarborough were sponsors of our Excellence in Business Awards 2021 – the Entrepreneur of the Year category – and said it was an opportunity to celebrate, in person, the wealth of great business we have on the Coast.
To find out more about what the CU Scarborough could offer you as a potential student, apprentice or as a business of whatever size, visit their website.