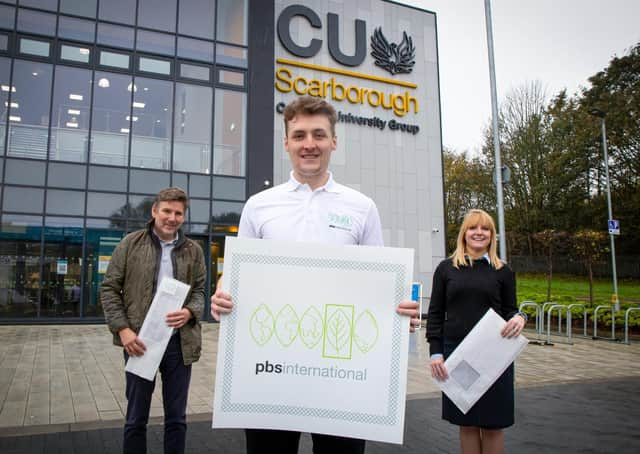 PBS International's Rob Coy, Morgan Sunderland and Clare Garrick (CU Scarborough).
PBS International visited the Coventry University Group campus to make a direct pitch to students when they were looking to fill a newly-created part-time commercial executive role.
Third year business management student Morgan Sunderland impressed and is now applying skills he is developing during his studies to make an impact on the growth of the Scarborough-based firm that applies technology to support plant breeders and seed producers around the world.
Morgan said: "I'm really enjoying my role at PBS International, it's a fantastic company to work for. The position is both interesting and challenging, and I've already learnt a lot in such a short space of time.
"The experience I'm gaining will not only help me through my final year, but also as I progress in my career after graduation."
Clare Garrick, head of curriculum for business, law and creative industries, said: "This is a hugely exciting opportunity for Morgan and demonstrates the high calibre of students we have at CU Scarborough."
Rob Coy, commercial manager at PBS International, added: "It is excellent to welcome Morgan to PBS International, he has some excellent skills and has already integrated into the team well."