Teachers and school staff needed in Scarborough now
With high demand for teachers and school support staff in this area set to continue into 2022 there is no better time to look for a change of role or to get back into teaching – and there's one agency which can help you swap role, get a start in teaching AND boost your terms and conditions.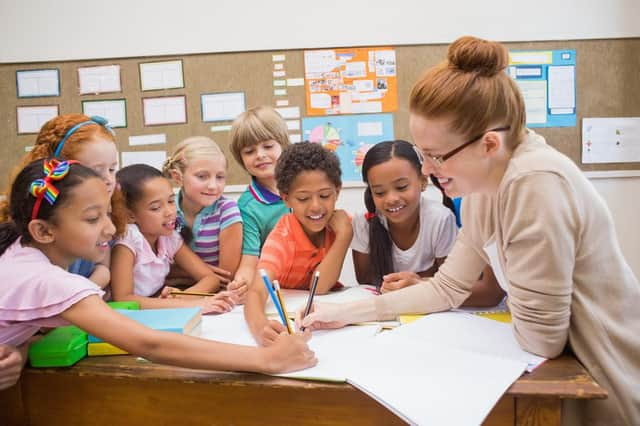 Teacher or unqualified classroom support assistant – there are jobs waiting for you in Scarborough to start now
Ever since the start of term this year, demand to fill vacancies has led to a major recruitment drive around Scarborough.
Principal Resourcing has been working with local schools for over 17 years, and currently has roles for teachers, support workers, cover supervisors, SEN support workers and non-classroom staff such as administrators and caretakers.
Demand is particularly high for teaching support staff – and with Principal Resourcing you could be filling one of those roles even without qualifications, they'll even pay for your training!
And anyone eligible who signs up to a contract before December 17 will also get a £25 voucher.
Owner and director Michelle Grassby of Principal Resourcing said: "If you are currently working on supply in schools, we will guarantee to beat your current pay rate, the best staff deserve the best pay rates, we think it's that simple!"
She said classrooms needed extra staff right now, particularly to work with small groups of children helping them catch up on missed work.
"We are seeing extra demand for support staff," she said.
"If you are interested in working the classroom and believe you have transferable skills, we offer unparalleled CPD and training to get you the right skills to start your career in the classroom."
The agency will pay successful applicants to do their qualification (Level 2 Teaching Assistant Diploma) and enhance this qualification with in-house practical training .
As an independent agency, the firm is innovative and forward thinking, and constantly evolving and coming up with additional support services for schools.
Michelle added: "Schools are looking for much more then supply staff. We look to work in partnership with schools providing a variety of add-ons you support not just with their recruitment but with a host of other things such as paediatric first aid, CEOP ( internet safety training ) both to pupils and parents, employability workshops to name but a few.
"We believe we are the only wholly-owned, independent education recruitment specialists. Many of the competitors in the market have moved over from other sectors such as industrial recruitment as they have seen a gap in the market and wish to capitalise. We are education specialists. We think that sets us apart."says Michelle,
Luke Bottomley has been looking after the secondary schools in the area for over six years now and has cemented excellent working relationships with several of them and says "the start of this academic year has seen an unprecedented demand for roles to be filled and this has continued through the whole term . Looking forward to 2022 we expect demand in the new year to increase further so for anyone currently working on supply or with transferable skills, we really urge you to get in touch and register with the market leader where we offer unparalleled rates of pay as well as inhouse CPD!"
Kat Patchett the Primary Consultant has had a hugely busy term and has managed to become the preferred supplier for a number of local Primary Schools. She reiterates the need for support staff with primary schools and urges candidates with transferable skills to apply so the business can support them though a formal qualification as well as providing inhouse training from our latest team recruit, a Qualified Teaching assistant with 21 years' experience to offer practical training. Kat goes on to say," this appointment has been the result of increased demand for support staff and goes to highlight how the company reacts to market demand. "
Kat goes on to say: "We also offer community outreach by offering schools access to the training platform for their parents. We appreciate that schools striving to improve the parent/ school partnership, development of this partnership is critical to aspiration both parental and pupil. Unfortunately, not all parents are able to assist their children with schoolwork.
"By allowing them access to our training platform, we can assist with basic skills encouraging parents to then engage more with their children's school work. This increased engagement then serves to raise aspiration and heighten that parental/ school partnership."
Principal Resourcing candidates are quite simply pivotal to the success of our business, which is why the firm guarantees pay the best pay rates.