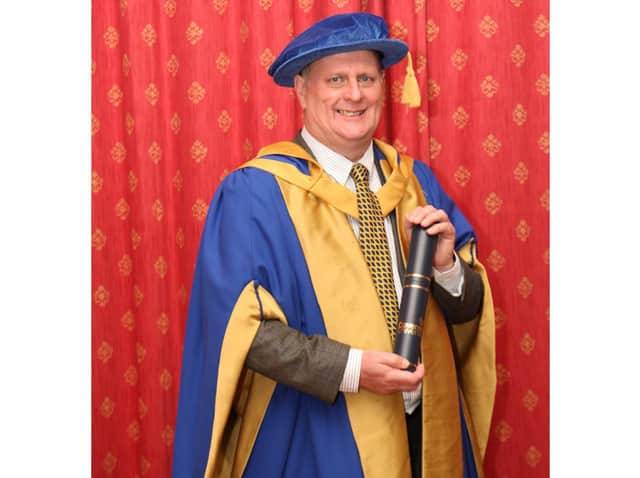 Jim Dillon with his honorary doctorate.
Jim Dillon, who retired as chief executive of Scarborough Borough Council earlier this year, was awarded an Honorary Doctorate of Education during the graduation ceremony at
Coventry Cathedral yesterday (Tuesday November 27).
Jim was presented with his scroll following a speech about his work by Kay Fraser, Associate Pro-Vice Chancellor of CU Scarborough.
Kay said he had made a significant contribution to the regional economy – part of which was working on the establishment of the university's new campus in the town.
She said: "Scarborough is a seaside resort, which can trace its origins back to prehistory. As the centuries rolled on the fortunes of the borough waxed and waned, arguably peaking in
the Victorian era as a wealthy spa town.
"Jim recognised the importance of this long heritage and has been instrumental in helping to bring millions of pounds of inward investment into the town to support its regeneration and sustainability.
"Key amongst these has been the refurbishing and revitalising of important parts of the town's seafront built-environment, including redevelopment of the historic spa, and installation of £15 million worth of sea defences along the Scarborough coastline, which fronts on to the unforgiving North Sea."
She also mentioned his role as a key driver of the redevelopment and re-opening of Scarborough's Open Air Theatre, in bringing the Tour de Yorkshire to the town and in the multi-million project to build the Flamingo Land Stadium and Everyone Active leisure centre.
She added: "Jim was involved with the CU Scarborough project from the early start-up days and is still a valued member of the CU Scarborough Advisory Board.
"He has been instrumental in the development of the academic portfolio at the campus, advising on the tender processes for apprenticeship bids to support the aspirations of the
town's youth, and working closely with the University to develop student accommodation in the town.
"In recognition of his extensive contribution to the economic regeneration of Scarborough through educational, cultural and sporting developments, Coventry University, by decision
of the Academic Board, had the privilege of conferring the Degree of Doctor of Education, honoris causa, on Mr Jim Dillon."
Jim Dillon added: "I am thrilled to have been awarded this Honorary Doctorate by CU Scarborough.
"One of my proudest achievements is to have played a part in making Scarborough a University town so to be recognised in this way is wonderful.
"So many people have worked extremely hard to grow the economy in Scarborough and it's vitally important that everyone continues to work together to attract investment to the region."