Further Education: Sixth Form Open Evening at Lady Lumley's School, which welcomes sixth form students from Ryedale and beyond
A warm welcome to all our potential Year 12 students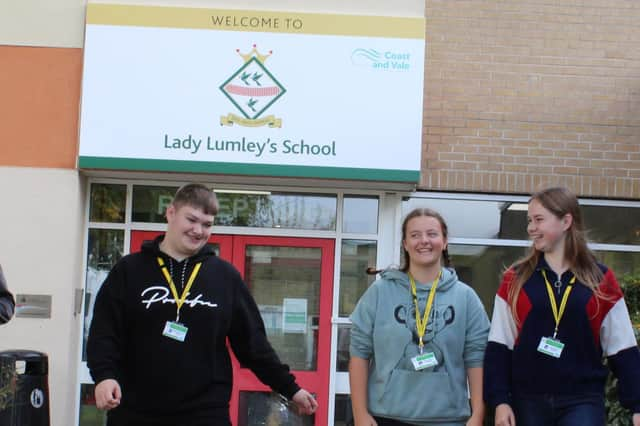 Lady Lumley's sixth form is a place where students can thrive. Staff and students are collectively striving to "Be our best" in all aspects of post-16 education. We are ambitious for our students, support them in their progress towards career and life goals and truly value personal as well as academic development.
We are proud of our academic results, bucking a national trend in 2023 with increased percentages of high grades A*-A and A*-B from 2022. Our outcomes give our students life chances, the product of an environment that supports and challenges students to truly thrive. Through high quality teaching and learning and student commitment, opportunities exist for students to flourish. We are very much looking forward to Year 11 students joining us in Year 12 and then preparing for two years to take the next step of Employment, University or Higher Level Apprenticeships.
Through a personal development curriculum, sixth form students are supported from the start to develop as people and academics. Across tutor time, Life lessons and assemblies, skills and mindsets are focused on to ensure students make rapid progress. Independent learning skills; careers; PSHE; cultural, political and economic awareness; growth mindset; wellbeing; leadership; enriched learning; all delivered to help students become outstanding members of the local, national and global community.
Lady Lumley's is a welcoming, community sixth form that brings students together from Ryedale and beyond. Please do join us for our Post 16 Open Evening on Wednesday 8th November 2023 between 6.00 pm-7.30 pm or contact by email Mr Carter, Assistant Headteacher, Head of Sixth Form - [email protected] or Mrs Allan, Sixth Form Student Support Manager - [email protected] or by telephone on 01751 472846. Clair Foden, Headteacher and Alex Carter, Head of Sixth Form
Choosing to go to sixth form at Lady Lumley's was the best choice for me: I went into Year 12 already having a great rapport with my teachers, and I've felt fully supported during the demanding process of applying to my five university choices. I'd definitely recommend it to anyone thinking of further education after their GCSEs! A Y13 student
If you are unable to attend the open evening but would like to find out more about studying in the sixth form at Lady Lumley's click here.