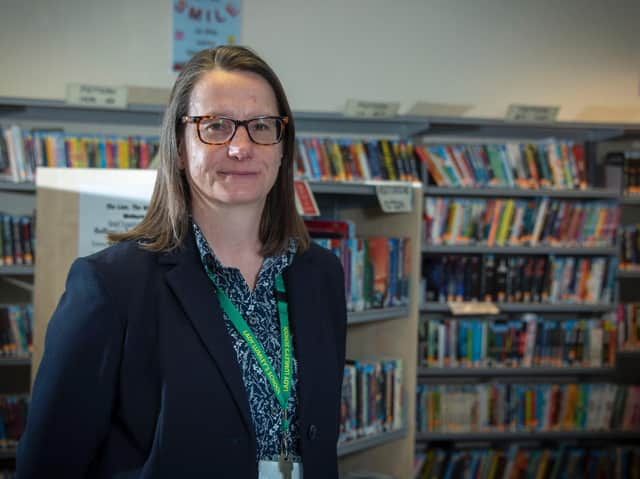 Clair Foden, new headteacher at Lady Lumley's School, Pickering
Clair Foden takes up her position as the mixed secondary school, for children and young people aged 11-18, including a sixth form, prepares to become an academy and join the Scalby Learning Trust. The conversion is due to take place on May 1.
In a positive monitoring inspection carried out before all classrooms reopened last month, school inspectors Ofsted said Lady Lumley's School leaders and those responsible for governance "are taking effective action to provide education in the current circumstances."
Ms Foden joins the school, which has 921 pupils, after four years at Temple Moor High School in Leeds most recently as associate principal.
She has led strategies that have resulted in significant improvement in the quality of teaching and learning, resulting in improved student outcomes at Key Stages 4 and 5.
A belief in developing high quality staff and investing in leadership is central to Ms Foden's view on school improvement.
Ms Foden worked as a senior leader at Thirsk School and Sixth Form College and then King James's in Knaresborough, where her contribution ranged from leading the history department to director of sixth form.
Originally from Essex, she moved to Shrewsbury for A Levels then progressed to Leeds University where she read Art History and Politics before training to be a teacher.
"Lady Lumley's deserves an ambitious and determined headteacher to deliver the school of choice for the area," said Ms Foden. "I believe I have the skills, qualities and experience to realise that, working alongside talented individuals at both school and trust level.
"I've benefited enormously from my adoptive home county of North Yorkshire. I live in Ryedale and thoroughly enjoy the rurality for cycling and walking and also appreciate the easy connectivity to London to experience a different vibrancy of culture.
"I am very grateful for the respite this offers from what I know will be a demanding but rewarding job.
"Following a period of significant professional development in Leeds, now, alongside the senior team, I will lead Lady Lumley's in a way that means it's a school students want to learn at, colleagues want to work at, and that has the community's full support."
Brian Crosby, chief executive of Scalby Learning Trust which is to change its name to Coast and Vale Learning Trust to reflect its greater geographic spread, said he was "delighted" with Ms Foden's appointment and added: "Lady Lumley's School has a distinguished history and now a new chapter is about to be written, with a new leader and a new role as an important part of an expanding academy trust. These are exciting times for education in this area."
Ofsted said that the school's actions during the pandemic are securing good levels of pupil involvement in their learning.
"Leaders have made sure that pupils can share their work with their teachers. Pupils receive guidance and feedback on their work," said the report. "In music and drama, pupils submit videos of their performance work. In French and German, pupils record and share examples of their speaking work.
"Teachers provide special resources in art to enable pupils to complete more varied work. These opportunities are maintaining breadth in the curriculum.
"Leaders have increased communication with parents. They have responded to requests to provide more online drop-in sessions for pupils.
"This improving dialogue has supported pupils' education in the current context. The majority of parents who expressed their views were highly appreciative of the support provided by leaders and teachers."
Special mention was given to the needs of vulnerable pupils: "Leaders make regular contact with pupils and families to check their learning and well-being. Where necessary, leaders have provided technology and other resources to support pupils. They check how well these pupils are taking part in education."
Ofsted said that school leaders are encouraging those in Year 11 and in the sixth form to follow a 'business as usual' approach. "Despite changes to this summer's examinations, Lady Lumley's are motivating these pupils to maintain focus on their chosen subjects. They are providing pupils with personal guidance to support their next steps in education and training."
The school inspector's "Parent View" survey last month reported that according to parents and carers, 93 per cent of students are happy at this school and 89 per cent said their child does well. 95 per cent said there was a good range of subjects and 88 per cent would recommend the school to another parent.
Scalby Learning Trust, soon to be Coast and Vale Learning Trust, comprises Scalby School, Newby and Scalby Primary School and Friarage Community Primary School.
Scalby School is the lead school for the Scarborough Teaching Alliance.