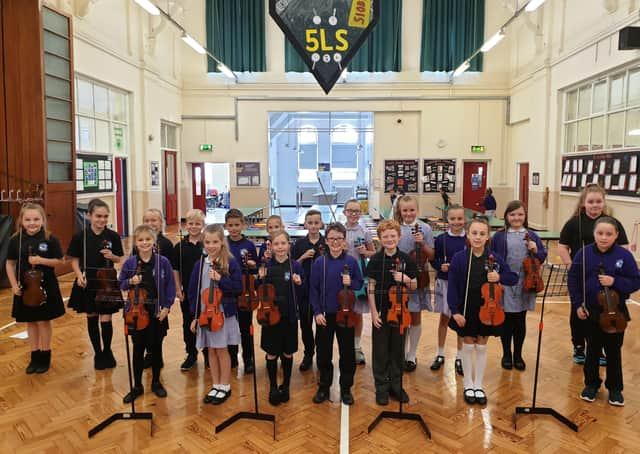 The Quay Academy string orchestra. The school advised the Department for Education in shaping the new music curriculum. Photo submitted.
Quay Academy is part of the David Ross Education Trust (DRET) family of schools, which played a key role in advising the Department for Education and shaping the new policy.
DRET's executive director of music, Simon Toyne, served on the Government's Expert Panel for the Model Music Curriculum, supporting and contributing to the creation of the curriculum, and is also president of the Music Teachers' Association.
Simon supported and contributed to the creation of the Model Music Curriculum, and has also worked with Quay Academy on their own musical provision, which is key to their wider curriculum.
Quay Academy's Junk Percussion Flashmob event in Scarborough. (photo before Covid restrictions).
At Quay Academy, pupils receive a minimum of one hour of music teaching per week, all taught by the school's music specialist. The children receive a varied curriculum where they experience a wide range of musical instruments including ukuleles, glockenspiels, steel pans and African Drums. Each year group has the opportunity to perform their talents to family and friends at least once during the school year.
Tim Wilson, primary music specialist (North) at DRET, said: "From the moment pupils arrive at Quay Academy, the fundamental skills of pulse, rhythm and pitch are instilled into each and every pupils through the Kodaly method.
"We have a well-established choir of around 50 children who rehearse weekly and perform at several events in and out of the local area.
"Each academic year ends with a summer showcase celebrating all the fantastic music making that goes on at Quay Academy."
Simon Toyne said: "The value of music in children's education has been well rehearsed, but usually explained in terms of transferable skills.
"The importance of the Model Music Curriculum is its shining light on the intrinsic qualities of music as a subject in its own right."