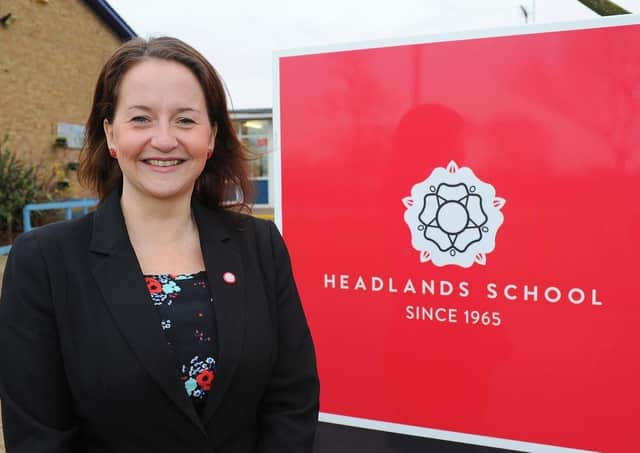 Headlands School headteacher Sarah Bone.
An additional remote monitoring inspection was held over two days in February, when the inspectors spoke to a number of senior staff, a group of pupils and members of the governing body.
Headlands headteacher Sarah Bone said: "There are no identified 'areas for improvement'. This is a hugely significant achievement for our school community during these extraordinary times.
"This is due to the hard work of the dedicated and talented team of staff at Headlands School, and the invaluable support we have received from parents and carers in recent months.
"We look forward to building upon the findings of Ofsted's report and making further progress throughout 2021."
Among the findings in the report are:
○ The school motto 'Pride, Aspire, Respect' is at the centre of Team Headlands' approach to supporting the pupils in its care.
○ The headteacher is 'passionate and determined to make the school the best it can be', 'committed to the local community' and 'having a positive impact on improving the school and its curriculum'.
○ Headlands provides a broad and balanced curriculum, both remotely and on site, and continues to develop programmes to support pupils in their future careers.
○ Students who were not at school due to Covid-19 restrictions had access to a well-planned remote offer, with staff using a range of techniques to give regular feedback on their work which helps to ensure that pupils are on track.
○ Pupils with special needs and/or disabilities (SEND) receive extra support. As a result, they are increasingly successful in their learning.
○ Governors have a good understanding of the challenges that the school is facing. They have been involved in strategic decisions during the pandemic. However, they have also focused on the wider improvement of the school.