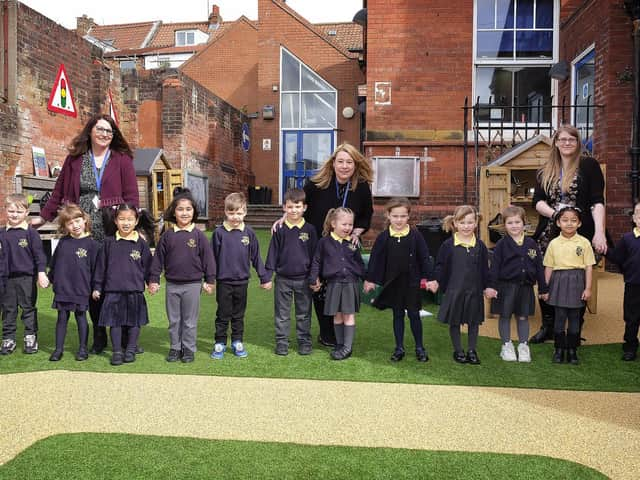 Teachers Penny Carver and Caroline O'Keeffe with pupils.
The outdoor area has been improved by installing artificial grass, a purpose built bike track and messy play area. It has been designed to encourage exploration and discovery, and support the children's physical development.
Headteacher Cheryl Cappleman said: "It is fantastic to have all the children back in school now.
"We are really happy with the changes we have made. We have created a welcoming, stimulating and challenging outdoor environment for our children."
Pupil enjoying an expedition in the playground.
The school maintained contact with all families during the lockdown period, with phone calls, emails and some home visits, and found this to be really helpful with engaging the children in remote learning, and with the transition back into school.
Mrs Cappleman said: "Staff and parents have been amazing during these very challenging times, 'Together we can' is our school motto and that has certainly been the case this last year.
"We are excited to begin planning lots of educational visits and adventures this coming term as further restrictions are lifted."
Friarage School still has some places available in their Nursery and Reception Classes for September 2021 as well as places in all other year groups. . For more information, contact the school 01723 374244. All new pupils to the school receive a welcome pack which includes a £15 uniform voucher for Boyes.
Pupils building in the new workshop area.