Scarborough secondary school rated as 'requires improvement' by Ofsted at latest inspection
A Scarborough secondary school has been rated as "Requires Improvement" following their latest Ofsted inspections – but their drive for improvement was commended.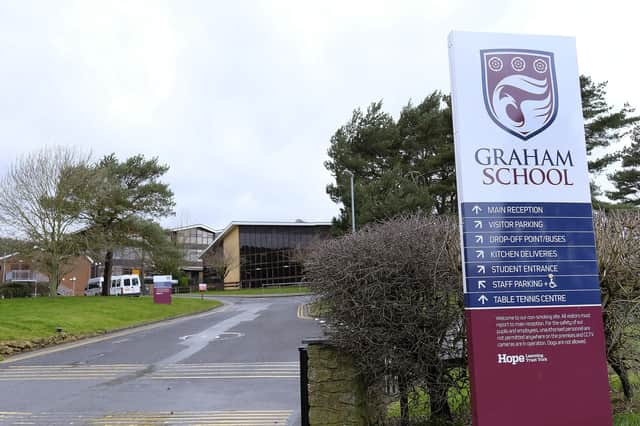 The school standards regulator visited Graham School in June of this year, and in its report published today said that the secondary school is "on an improvement journey" and that "many aspects of the school's work show improvements", with "leaders getting on with ensuring that the quality of education that pupils receive is high quality".
When Graham School joined Hope Sentamu Learning Trust, it was rated Inadequate. Today's report rates the school as Requires Improvement, with Personal Development specifically rated as Good.
The report picks out two areas where the school can make further progress, in addition to what they are already doing.
The first is attendance, where Ofsted says: "There are small improvements in attendance but too many pupils do not attend school regularly. This limits their learning." The second is behaviour where although classroom behaviour is good, Ofsted says that "in corridors and outside spaces some pupils are disruptive".
Emma Robins, Principal at Graham School, said: "I am pleased that today's report from Ofsted reflects the improvements we have made at Graham School in recent years – and that we are well placed to build on this progress. Our number one focus is to continue our journey of achievement and we are focusing strongly on improving attendance and behaviour. With the help of parents, we know we can progress really well here too.
"The whole team here has worked incredibly hard so far and I am very proud of them. Ensuring our students receive an excellent, well-rounded education that enriches their lives and helps them accomplish fantastic things underpins everything we do at Graham School. We will continue to work hard every day to achieve this."
The Ofsted report said that leaders have "raised expectations in how pupils conduct themselves" and that there are "signs that most pupils can follow appropriate behaviour routines."
It also said that most pupils "behave well in lessons" "feel safe in school", and pupils are well supported to "build social skills and improve their resilience."
The strength of science teaching was highlighted, with the curriculum described as "clearly thought out and well delivered" and that the entire curriculum is "heading in the right direction".
The report also said that leaders prioritise reading and have developed a carefully considered approach to encourage reading across the school.
The report says that it is "well designed to meet the interests and abilities of all pupils. Pupils that need help to develop their reading skills are well supported. They receive personal intervention to build their phonic knowledge and comprehension."
As well as this, the report also states that the progress of pupils with special educational needs and/or disabilities (SEND) is closely monitored.
SEND leaders ensure staff are "fully informed about the individual needs of pupils across the school. This allows staff to provide focused support in lessons. Pupils with SEND generally do well as a result. They value the support they receive."
Leaders ensure there are "ample opportunities for pupils' broader development. Pupils follow a well-structured personal development curriculum. It includes coastal safety and developing an understanding of people who are different in the local community."
Leaders ensure that pupils' careers guidance is thorough. "They are well supported about the opportunities available to them. This includes pupils with SEND who receive extra guidance. Most pupils move on to positive destinations when they leave school."
Governors and trustees have "ambition to get the best out of the school and pupils" and most staff say leaders "thoughtfully consider their workload and wellbeing. Early career teachers feel well supported by leaders. They receive regular mentoring."