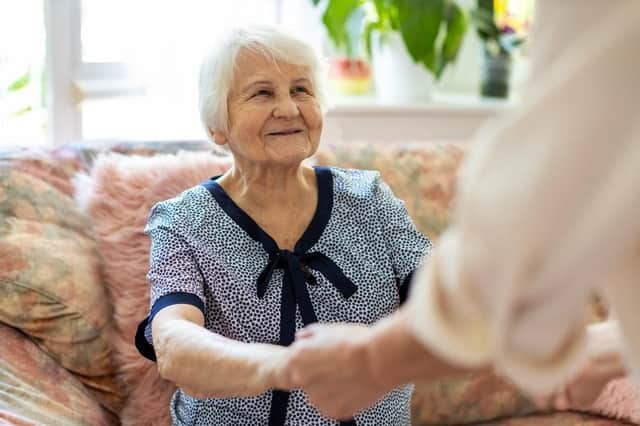 Have you got what it takes for a career in care?
This year the awards are a celebration of achievement during adversity and a beacon of hope for a more positive future.
In particular, we want to show how proud we are of the amazing work of carers – paid and unpaid – in looking after some of our oldest and most vulnerable residents along the Yorkshire coast.
For many, particularly this year, the tireless, selfless work of carers has been a lifeline for people starved of visitors in care and nursing homes and those reliant on visitors for help and support in their own home. They have put their own health and safety at risk to maintain and improve the quality of life for those they care for.
After this most challenging of years, we are recognising a special someone who epitomises the superhuman effort carers have shown during the pandemic.As providers of care ourselves, we know what it takes to provide that care during normal times – but the Covid-19 pandemic has placed the most unimaginable pressure on those who give their time to look after others.
We are proud to be part of the community on the Yorkshire coast and delighted to give back to that community by sponsoring this prestigious award this year. The recipient has earned the title of Social Care Hero in the most difficult and challenging of times and deserves their accolade.
Established in 1989 and starting with just one care home, Saint Cecilia's Care Group now has a nursing home, two care homes and a day care centre in Scarborough plus a care home in Pickering.
We employ 160 staff and provide care for around 110 residents in a safe, homely and welcoming environment.
All of our residential care is rated as 'Good' by the inspection body the Care Quality Commission and we have a strong team of highly-trained and professional staff to provide the best quality of care.
Care is a very enjoyable and rewarding profession and organisations like Saint Cecilia's are always looking to recruit staff. If you have a patient and compassionate nature and love working with people, then a career in care might be for you. If you would like to learn more, please get in touch at https://www.stcecilias.co.uk/#about
There's never been a better time to become a Social Care Hero!