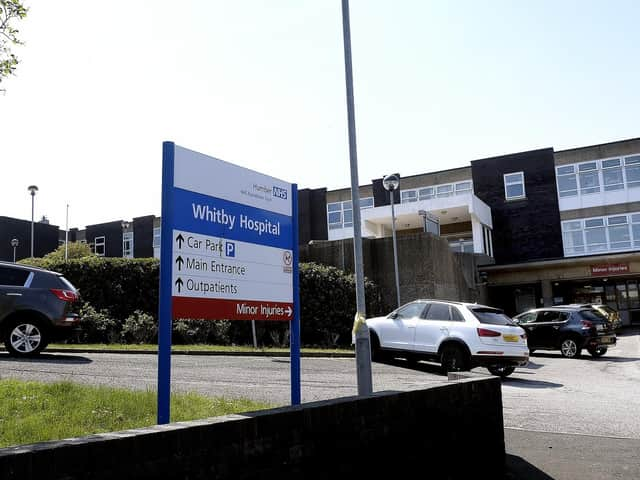 Whitby Hospital car park spaces are being taken up by visitors who are also using the loos inside.
Since the ban on travelling for walks was lifted, people working at Whitby Hospital say they have seen an increase in people using their car park and coming into the building just to use the toilets.
Sonia Rafferty, Service Manager at the hospital, said: "This is not ideal in the best of times and in the current circumstances its simply not sensible.
"The last thing we want is people in and out of the hospital during a pandemic - not because they are at greater risk of catching it by going in but rather that they could be unknowingly carrying the virus themselves and transmitting it to our hospital staff and patients.
"While we don't wish to ban the use of our toilets and we understand that, in some cases, it may be urgent, we strongly advise visitors to go elsewhere for this."
Posters are being put up in the main entrances of the hospital urging people to think twice and only enter the hospital if they need to use its services.
Since last week, people have been advised by the Government that they can spend more time outside and travel as far as they wish within England to exercise and enjoy the outdoors.
The move has sparked concern across Whitby, Scarborough and Filey from residents worried about a large influx of people to their towns.
Last weekend, North Yorkshire County Council restricted on-street parking in Whitby and closed public toilets and car parks.
The council also shut Royal Albert Drive and Marine Drive in Scarborough to cars to ensure that pedestrians were able to stay two metres apart.
Cllr Linda Wild, Mayor of Whitby, said local people were concerned as Whitby was not built for social distancing.
"It is important that everyone acts responsibly and doesn't overwhelm Whitby while we all get to grips with step one of the Government's plan," she said.
"Thank you to everyone for supporting Whitby and the Scarborough district at this difficult time.