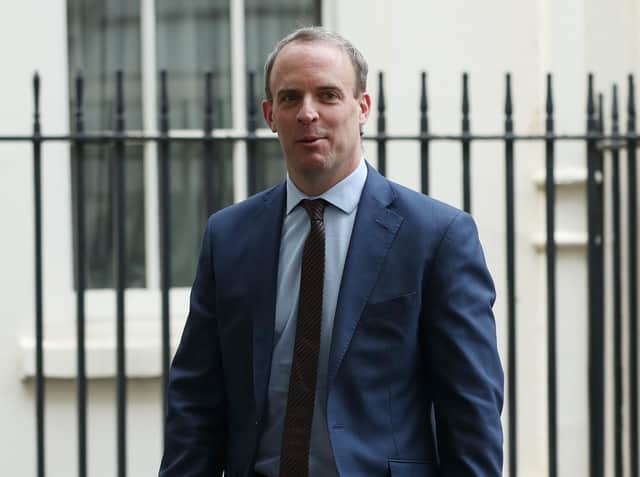 Foreign Secretary Dominic Raab leaving No 10 Downing Street, after a media briefing in Downing Street, London, on coronavirus (COVID-19). London. Photo: PA
Speaking at the daily coronavirus briefing at 10 Downing Street, Office for National Statistics chief Sir Ian Diamond said the rate of infection - known as the R rate - had risen due to outbreaks in care homes.
But Foreign Secretary Dominic Raab signalled this would not stop the Prime Minister announcing an easing of lockdown measures on Sunday.
Boris Johnson is expected to address the nation over the weekend, setting out a roadmap for the country to return back to normal - he has said if possible, some restrictions could be lifted as early as Monday.
But as a public question at today's briefing queried whether this was actually safe, Mr Raab instead focused on the coming weekend and said: "Whether you're in London, Edinburgh, Cardiff or Belfast as we enter another long bank holiday weekend, I think the message is very clear – follow the guidance.
"There is no change today in the guidance or in the rules."
He reiterated the Prime Minister will set out his plans on Sunday, adding: "We're locked into the closest co-operation and collaboration with the devolved administrations through Cobra."
But it came as Sir Ian said the infection rate had probably gone up in the past fortnight, agreeing with comments made earlier by John Edmunds, professor of infectious disease modelling at the London School of Hygiene and Tropical Medicine.
"That is driven by the epidemic in care homes, he would say, and I would not demur from that," Sir Ian told the Downing Street press conference.
"That gives us a real challenge to reduce the epidemic in care homes and it's one that I think – over the next few weeks from what I see happening – will happen."
He said that "at the moment we need, certainly, to get on top of the epidemic in care homes and in hospitals" but "in the community we have things relatively low at the moment".
Deputy Chief Medical Officer for England Dr Jenny Harries said the rate was "much reduced".
She said the numbers of hospital patients with Covid-19 were down in all regions to "relatively low" levels, with a 16 per cent fall over the past week.
She said the number of deaths was down to the lowest number since the end of March.
But she said there had to be a focus on care home staff.
"We need to focus equally not just on the residents but on the staff as well because these are quite closed communities," she said.
"We have been talking about the R in the community, where everybody has done so well to bring that number down, but of course workers who are working in care and health settings also are part of their local communities, so we need to make sure that we address infection and prevention control measures, and really make them robust."
Mr Raab said "the single biggest challenge we have got in care homes is the ebb and flow of people in and out of them, particularly when they are not showing signs of having the virus".
But he added the Government is "confident" it has the plan to decrease the infection rates in hospitals and care homes.
But he admitted there was a "very significant issue" in social care.
He said: "We've definitely got a challenge in care homes.
"The CQC data that came out, I think yesterday, showed that overall in care homes the number of deaths was down by over 300 on the last week, so that's positive, but there's still a very significant issue in care homes."
Officials have been looking at how ministers solve this, with PPE, social distancing, movement into facilities and testing, he said.
He added: "There's not a silver bullet here, it's about putting all the different bits of the jigsaw together and having a strategic, holistic approach.
"We're confident now we've got enough information, we've got the data and we've got the plan in place to really drive the infection rates in hospitals, but also in care homes."
Mr Raab said any short-term changes in the restrictions announced by the Prime Minister on Sunday would be limited.
"Any changes in the short term will be modest, small, incremental and very carefully monitored," he told the No 10 press conference.
"If we find in the future the R level goes back up or that people aren't following the rules, we must have the ability then to put back measures in place."
He said the existing rules would still apply over the coming bank holiday weekend.
"For the moment it is really important, particularly as people look towards a warm bank holiday weekend, that we continue to follow the guidance in place at this time."
Mr Johnson earlier told the Cabinet he would act with "maximum caution" in easing the coronavirus lockdown.
Northern Ireland Secretary Brandon Lewis urged people not to be too expectant ahead of the announcement, with the Government keen to avoid a second wave of Covid-19 triggered by relaxing measures too quickly.
Editor's note: First and foremost - and rarely have I written down these words with more sincerity - I hope this finds you well.
Almost certainly you are here because you value the quality and the integrity of the journalism produced by The Yorkshire Post's journalists - almost all of which live alongside you in Yorkshire, spending the wages they earn with Yorkshire businesses - who last year took this title to the industry watchdog's Most Trusted Newspaper in Britain accolade.
And that is why I must make an urgent request of you: as advertising revenue declines, your support becomes evermore crucial to the maintenance of the journalistic standards expected of The Yorkshire Post. If you can, safely, please buy a paper or take up a subscription. We want to continue to make you proud of Yorkshire's National Newspaper but we are going to need your help.
Postal subscription copies can be ordered by calling 0330 4030066 or by emailing [email protected] Vouchers, to be exchanged at retail sales outlets - our newsagents need you, too - can be subscribed to by contacting subscriptions on 0330 1235950 or by visiting www.localsubsplus.co.uk where you should select The Yorkshire Post from the list of titles available.
If you want to help right now, download our tablet app from the App / Play Stores. Every contribution you make helps to provide this county with the best regional journalism in the country.