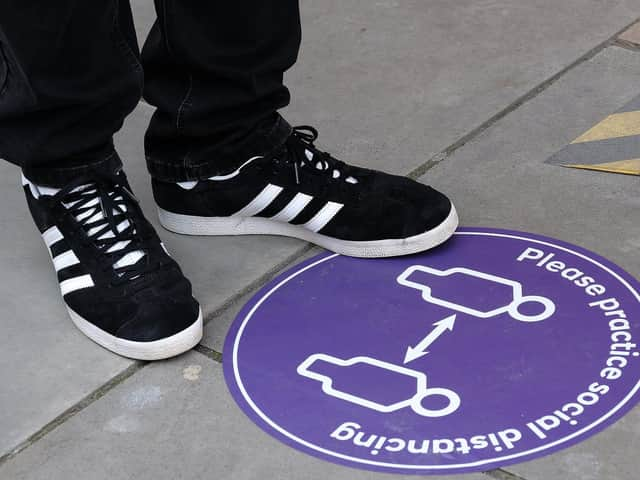 We must all follow the rules, says county council boss
Richard Flinton, chairman of the North Yorkshire Local Resilience forum, which includes the emergency services, councils and health, said the county was at a tipping point and it was the responsibility of each and every one of us to play our part and follow distancing guidelines so we can continue going about our lives and supporting the local economy.
The appeal comes on the back of surging infection rates including Scarborough which is on the Government watch-list as an area of concern.
The resilience forum includes the emergency services, local authorities and the NHS and is responsible for leading the fight against the pandemic here to protect lives and the NHS, support the economy and keep schools and businesses open.
It is issuing this call as part of its strategy to act early to get on top of infection rates here to avoid the enforced interventions being seen in many other northern areas.
As most infection can be linked to household and social contact Richard Flinton called on residents across the age range to pull together.
He said: "Rather than wait for Government intervention and the imposition of more serious lockdown measures being faced by people in many parts of the north of England, we are appealing to people to take the necessary precautions now.
"We must not risk everything we have achieved in North Yorkshire by letting our guard down. Social distancing and hand washing remain the best defences against Covid – with face coverings where required. We also urge everybody to keep to the rule of six, inside as well as out.
"We would also like to go a little further than that to protect our schools, businesses and freedoms here – we are not waiting for more areas to go onto a watch list to step up our response. We would ask that you wear a facemask or covering in any areas where social distancing is difficult – even when outside.
"So, if you are in a narrow street or other busy area please cover your face – be part of Team North Yorkshire and help keep our county open. Protect your friends and family and keep our High Streets and hospitality sector safe and open.
"We will all need to work hard together if we are to avoid enforced national interventions, which may prevent us from being with our friends and family.
"It can be done. Rates have come down in Selby and Scarborough which are on the watchlist as areas of concern. That is a great achievement by communities in those districts. Thank you for all your efforts and sacrifice. We have shown we can pull together to beat Covid."
A suite of support materials on events can be found here Steps are already in place to:
· Direct local testing facilities towards areas of greatest need;
· Step up support to care homes and other care services;
· Re-introduce restrictions to visits to care homes
· Pause the re-opening of social care day services;
· Work with Safety Advisory Groups to develop guidance to ensure events are Covid-19 compliant and to advise on the cancellation of events in areas with high levels of infection to protect lives and livelihoods;
· Work proactively with workplace and hospitality sectors to promote Covid-19 safety measures;
· Support schools and businesses with positive cases to manage incidents and prevent or limit the size of outbreaks.
Many of these measures are being implemented countywide, with some being targeted to those areas that have the highest infection levels.