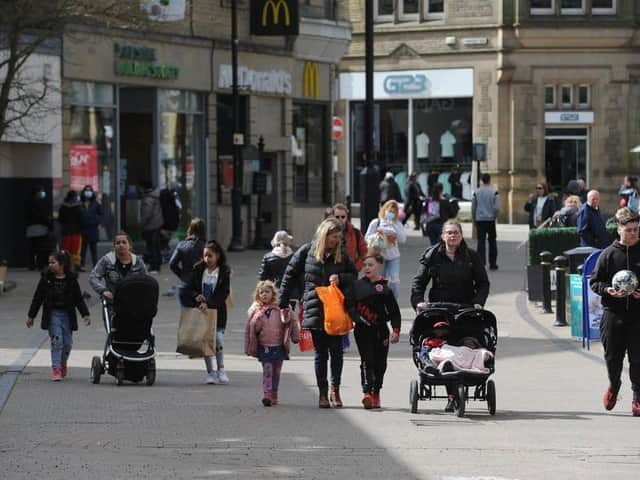 Shoppers returned to the high streets as lockdown restrictions were lifted last Monday.
Richard Webb director of health and adult services at North Yorkshire County Council, said since the lifting of lockdown restrictions last week infection rates have fluctuated around national average levels with some small outbreaks causing slight changes in the numbers.
He added, however, the wider Yorkshire region had some of the highest levels of infection in the country as he warned the public not to think the threat of coronavirus had gone away.
"We still need to be careful and thoughtful," Mr Webb told a North Yorkshire Local Resilience Forum briefing today.
"What you will see from the figures is quite a lot of fluctuation - they are changing from day-to-day. It is also what we are seeing right across Yorkshire.
"Yorkshire has some of the highest rates of continuing infection in England and there is no single explanation for that.
"In some areas the Kent variant spread more rapidly before Christmas and those areas that seem to have got the variant much later on now seem to be having higher levels of infection.
"This is not the case everywhere though so we do need to treat that with some caution."
Out of England's nine main regions, Yorkshire and the Humber currently has the highest weekly infection rate with 52.1 cases per 100,000 people.
A breakdown of the figures for North Yorkshire shows the county is below this at 23.8, with the top three districts within the county being Selby (46.3), Craven (28) and Harrogate (24.2).
Meanwhile, more than 250,000 people in North Yorkshire have now received their first vaccine dose and 84,000 their second.
There are also 25 coronavirus patients currently in the county's hospitals - a reduction of five from last week.
Louise Wallace, the county's director of public health, told today's briefing that while these figures were encouraging, there was still a need for people to remain on their guard to ensure more restrictions are lifted on schedule next month.
She said: "I'm sure since the easing of restrictions over the past few weeks many people have taken the opportunity to meet up outdoors. It has been really good for us to be able to spend time with our friends and families.
"But I want to take this opportunity to remind everybody just how important it is to meet up safely. We do need to wash our hands, cover our faces where necessary and make that space.
"Some elements of our daily lives have been restored and that is very welcome, but I do urge caution though and ask for us all to still take care.
"Covid-19 is there amongst us and we need to make sure we prevent it from spreading."
By Jacob Webster, Local Democracy Reporter