Scarborough celebrates 50,000 vaccination milestone
In the week that marks six months since the beginning of the national COVID vaccination programme, Scarborough has reached a huge milestone: 50,000 first doses.
Thursday, 10th June 2021, 9:57 am
Updated
Thursday, 10th June 2021, 9:58 am
Sally Brown, Clinical Director for Scarborough Core Primary Care Network, which brings together four local GP practices, said: "this week marks six months of the national vaccination programme and almost six months to the day of our first local vaccination clinic.
"This is also the week where we will pass the 50,000 vaccination mark; that's 50,000 people in and around the Scarborough area who have had their first vaccination either at a practice, in the early days, or at the rugby club, with many people having had their second dose too.
"This has been a mammoth task and I want to publicly thank everyone who has played a part in this great achievement, from our team to the army of volunteers who've joined us on the frontline and indeed those 50,000 patients who've attended for their vaccination."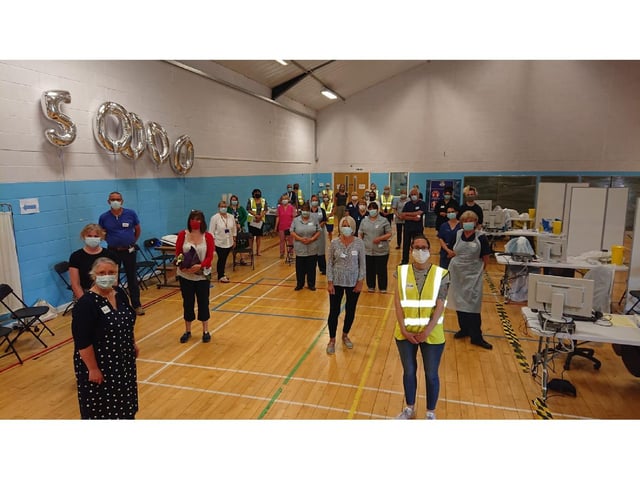 Staff and volunteers at the Rugby Club vaccination centre celebrate 50,000 vaccines.
Throughout the course of the week teams involved in the vaccination programme, from volunteers to medical staff, will be offered a celebratory slice of cake to mark the special occasion.
Sally added: "We have only been able to deliver this vaccination programme with help from retired GPs and nurses who came forward to enrol in the programme, volunteers from St Catherine's Hospice, Scarborough Borough Council and Scarborough Rugby Union Football club as well as all those back at GP practices looking after the day to day needs of our patients.
"The vaccination programme has given us hope, but it is not over yet, second doses are as vital as the first so please do attend for your second dose when contacted."
Those eligible to have their vaccination, now including over 25s, can do so at a vaccination centre by booking via the NHS website or by calling 119, or can wait to be contacted by their GP practice.
Staff and volunteers at the Rugby Club vaccination centre celebrate 50,000 vaccines.
Finally, Sally said: "once again, I want to say thank you to everyone who has played a part in the vaccination programme locally; the success of this is what is keeping our local communities safe, and for that we can all be incredibly proud."
Further information about the vaccination programme, including information on booking a vaccination, can be found at www.nhs.uk