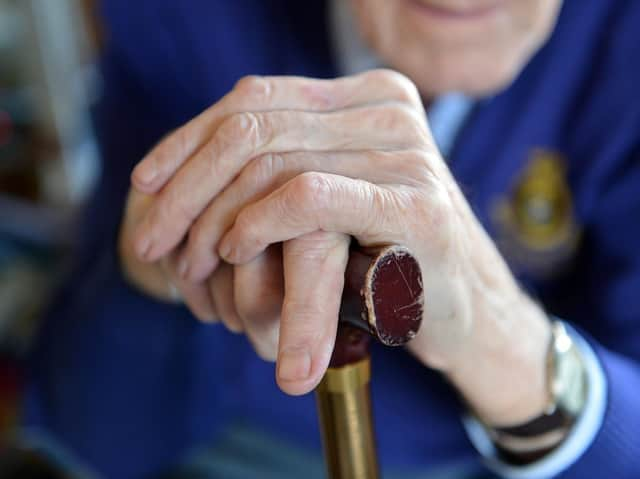 A care home in Yorkshire saw its entire catering team wiped out by Covid-19 it has been revealed
Rachel Bowes, North Yorkshire County Council's Director of Care and Support, spoke at a panel hosted by the authority about the difficulties faced and the support given to care homes in the county since the onset of the pandemic.
She spoke on how one undisclosed home's entire kitchen team fell ill with the virus at one point during the crisis, with all members off sick for 10 days, and as a result the council stepped in providing meals from one of its own homes.
The meeting was held as the UK today (Tuesday) marks one year since Prime Minister Boris Johnson ordered a national lockdown, in which time more than 120,000 lives have been lost to the virus in both hospitals and care homes.
A care home in Yorkshire saw its entire catering team wiped out by Covid-19 it has been revealed
Speaking at today's meeting, Ms Bowes paid tribute to the "flexibility and dedication" of care teams which she said had been "absolutely humbling".
She said many care settings had been really hard hit and did not have enough staff, at times, to keep people safe.
"Our teams in North Yorkshire care settings have volunteered and stepped up and gone above and beyond to make sure that people have been supported," said Ms Bowes.
"We also had one occasion where a care home lost its entire catering team to Covid and for a period of 10 days we provided hot meals to that care home from one of our care homes, just to make sure that residents were still in receipt of good quality, nutritious food."
A care home in Yorkshire saw its entire catering team wiped out by Covid-19 it has been revealed
Ms Bowes said care teams in the region were quickly forced to "learn from outbreaks" of the virus in other homes.
"Where a provider, including within North Yorkshire, has had an outbreak, then we've been able to work with that setting to work out what contributed to that and what we might do differently in the future.
"The generosity and openness of people sharing that information has meant that we've been able to continuously prove our response to the pandemic...that hopefully meant we've reduced some outbreaks happening elsewhere."
At least 247 frontline health and care workers are known to have died with coronavirus since March 11 last year, according to figures released this week.
He was offered a role as a relief domestic assistant at a care home in Skipton, North Yorkshire, and said his work there over the last 12 months has been "one of the best moments" of his life.
"Every day I walk in and see somebody doing something for somebody else. Residents need something done, it's never a hassle, never a bother, it's always done. The food's always excellent and the care is excellent."
Support The Yorkshire Post and become a subscriber today. Your subscription will help us to continue to bring quality news to the people of Yorkshire. In return, you'll see fewer ads on site, get free access to our app and receive exclusive members-only offers. Click here to subscribe.