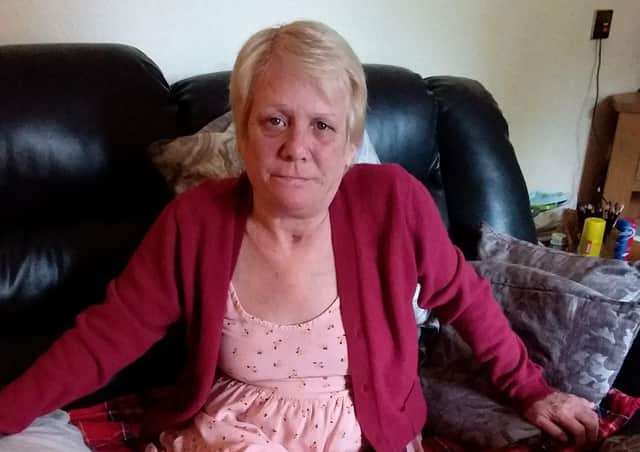 Deborah Bury said she is dealing with pain on a daily basis.
Deborah Bury, who lives on Pinfold Street, said she has been waiting for a hip replacement operation 'for around three years' and is struggling to get any progress.
Deborah lost both her legs when she contracted a virus while in a coma. She has also lost fingers on her right hand.
Deborah said: "I have been waiting for my hip to be replaced for three years now.
"During this process I have been involved with Bridlington and Scarborough Hospitals, Hull Royal Infirmary, and now Castle Hill.
"I was due to go for the operation last year but I had a cyst on part of my leg and it was deemed too dangerous to operate.
"I received a letter last week which said I would be waiting a further two to three months for the operation.
"The situation is getting me down,I'm at my wit's end.
"I only see the carers and the dog walker. Once I get the operation I can start doing more things for myself."
A Hull University Teaching Hospitals NHS Trust spokeswoman said: "Although we cannot comment on individual cases, we can confirm Ms Bury was referred to the trust in February last year.
"We are very sorry for delays she and other patients are experiencing because of the impact of Covid-19 on services here and at hospitals throughout the country.
"Before Covid-19, none of our patients were waiting more than a year for orthopaedic surgery. Unfortunately, we now have a significant number of patients who have been waiting more than a year for this service.
"We want to assure everyone that we are making good progress in tackling our waiting lists thanks to the dedication and hard work of our staff, who continue to review all patients regularly to ensure those most in need or waiting the longest are prioritised."
"However, we can confirm Ms Bury was referred to Hull University Teaching Hospitals NHS Trust in February last year for further treatment."