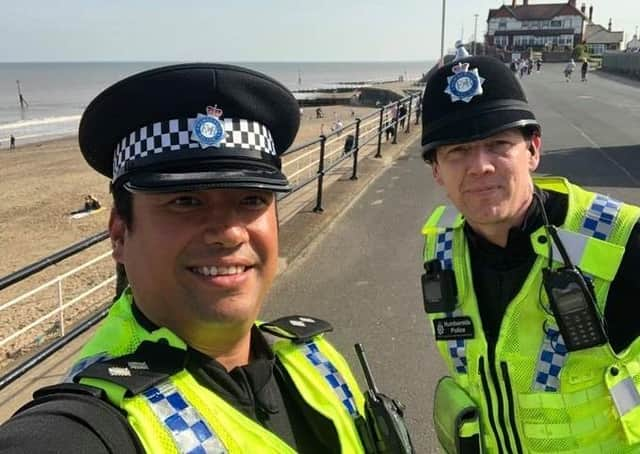 Inspector Derek Hussain during his first day on the policing team.
Based at Bridlington, Inspector Hussain is looking forward to working with the local community which covers not only Bridlington but Driffield and Hornsea too and all the rural villages from Fimber on the west, Fordon in the North, Flamborough on the east and Cowden on the south.
Insp Hussain said he wants to make sure residents and visitors feel safe in the area.
He also said residents should contact the police team no matter how small the matter is as they could provide a piece of the puzzle it needs.
He said: "I am really looking forward to exploring the beautiful countryside that surrounds us here in the East Riding. I have only visited here as a tourist so as the Inspector for the area I really want to make sure our residents and visitors feel safe here.
"I am also looking forward meeting all the new partners in the local authorities and charities locally. Inspector Rob Cocker has developed some excellent working relations within this community and I am looking to build on his foundations.
"I want to make sure our rural communities know who I am and who the community police team are. I want to reach out to them to make sure they know who to come to when they have a problem.
"In Bridlington there are issues with drugs, anti-social behaviour, anti-social riding of motorbikes. Operation Gatehouse has been underway in Bridlington for some time, this tackles the local problems of drugs and the anti-social behaviour associated with it.
"The police teams in the East Riding are so passionate about their roles. The reason for that is that they live here and want to make our region a great place and a safe place to live.
"Our officers and staff live so locally they just want to make their own communities better for everyone.
"Police officers cannot do everything on our own, we need the support from the local authority, local business and the public to help us tackle crime together.
"Can I please urge our community to continue to call us, no matter how small the matter is, we want to know about it. You might be the person that provides the piece of the puzzle that we are working on."