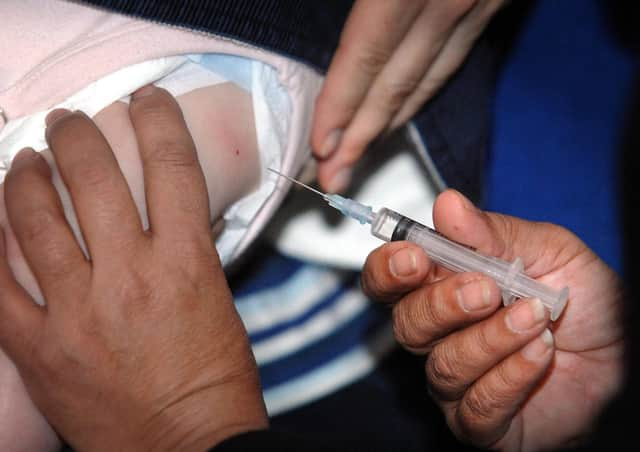 Figures from NHS Digital revealed the increase in MMR vaccinations. Photo: PA Images
Despite an increase in MMR vaccination rates across England, the British Society for Immunology warned that the level was still below target and could mean diseases such as measles spreading to vulnerable, unvaccinated people.
Figures from NHS Digital show 93.6% of babies in North Yorkshire received the first dose of the MMR vaccination by their second birthday in 2019-20 .
This was an increase on the 92.7% of two-year-olds who were vaccinated the year before, but means 351 babies were not inoculated this year.
Across England, the proportion of children having their first dose of the jab increased from 90.3% in 2018-19 to 90.6% in 2019-20 – though it is still well below the 95% needed for herd immunity.
This is the first time in six years that MMR coverage nationwide has increased, following a peak of 92.7% in 2013-14.
Vaccination rates fell and measles rates began to rise following a study in 1998 by Dr Andrew Wakefield claiming the jabs were unsafe. The findings were later discredited and the General Medical Council (GMC) struck him off, ruling he had been "dishonest, irresponsible and showed callous disregard for the distress and pain" of children.
The NHS figures show an increase in coverage in six of the nine English regions in 2019-20, with Yorkshire and The Humber having the fourth highest level of coverage, at 92.6%.
The North East, at 95.1%, was the only region to reach the target, while the uptake rate in London was 83.6%, the lowest in England.
Dr Doug Brown, chief executive of the British Society for Immunology, welcomed the "small increase in uptake for most routine vaccinations" but said "none of them have reached the necessary uptake level of 95% at the correct timepoint."
In North Yorkshire, 87.9% of children had received both doses of the MMR vaccine before the age of five in 2019-20 – compared to 86.8% across England.