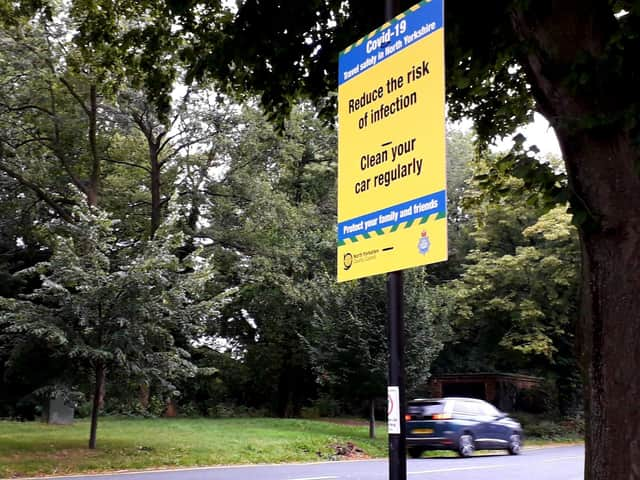 Covid-19 safety message signs in place.
The County Council's highways team has installed 100 signs around the county at key locations to remind people to follow coronavirus rules and guidelines on hand-washing, social distancing, face coverings and what to do if they have symptoms.
County Council Leader, Cllr Carl Les, said: "It's important to reinforce the Government's key messaging around keeping safe during the pandemic.
"We need to make sure people are doing everything they can to minimise their risk of catching the virus as well as spreading it to others.
"We have people travelling to and from work as we open up the economy and many visitors coming into the county for holidays and days out and we want to support people to continue to be vigilant about safety.
"The messages are in place to help avoid the infection rate from rising at a time when more people are going further afield, and more businesses begin to reopen.
"It is, without doubt, a critical moment for our economy, but this virus is not going away and we have seen spikes in the infection rate around the county.
"Sadly, a number of our neighbours in the north of England are back in harsher degrees of lockdown and I am aware that this has resulted in some concern here in North Yorkshire.
"So our highways team has been putting up these road signs as a frequent reminder to residents, workers and tourists alike to remember to continue with safety measures – self-isolating and getting a test when they have symptoms, washing hands regularly, carrying hand sanitiser, staying two metres from people not in their own household where possible and taking additional precautions, like wearing a face covering.
"Now is not a moment to lose concentration as lives and livelihoods here continue to depend on us all playing our part."
Click here for more information on how to stay safe.