Blue plaque marking artist's work in Bridlington restored at harbour
A blue plaque in Bridlington Harbour dedicated to the artist Walter Goodin, has been restored and replaced on the side of the Wall of Waves at Gummers Wharf.
Tuesday, 16th February 2021, 11:32 am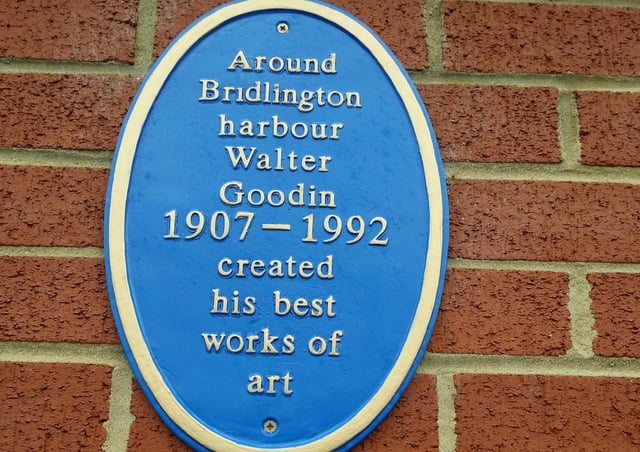 The new plaque marking the work of artist Walter Goodin.
Over the years, the harsh weather conditions have taken their toll and recently the blue plaque with gold lettering became unreadable.
Following the restoration work, the lettering is now clear to see and reads 'Around Bridlington harbour, Walter Goodin, 1907–1992, created his best works of art'.
Walter Goodin was born in Hull and his artistic talent was spotted when he worked as a porter on Beverley railway station.
Beverley artist Fred Elwell took Walter under his wing and he attended the Royal Academy where he won the Turner Gold Medal.
In World War Two, Walter volunteered into the Auxiliary Air Force Balloon Squadron as a balloon operator where he painted 'Balloon Studies' which are now on show in London's Imperial War Museum.
After the war, Walter came to live in Bridlington where he met and married Violet Williamson and he became an art teacher at Hull College of Arts and Crafts.
Living in Bridlington he enjoyed painting local scenes, particularly in the harbour area.
A spokesman who helped get the blue plaque restored said: "A sample of the artist's work can be seen on a Maritime Trail information board at Gummers Wharf.
"His paintings have become very desirable and fetch high prices when they come up for sale at auction.
"The plaque was presented in 2011 by Brenda Dismore, the former Mayor of the Borough of North Wolds.
"Brenda died in 2020 and her son Andrew Dismore organised the repair and restoration of the plaque with the Harbour Commissioners."