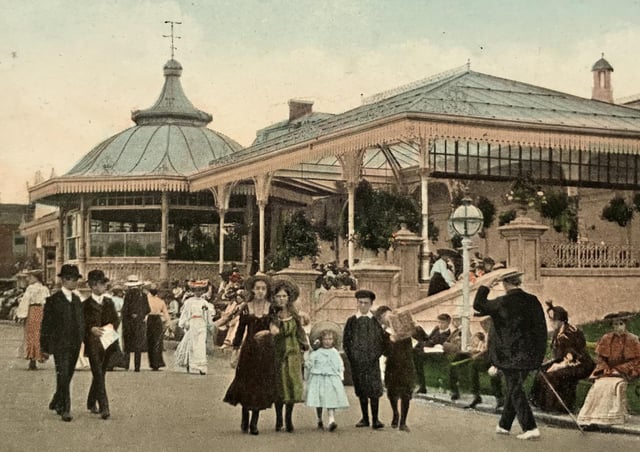 This colourised vintage postcard dated August 1909 features a busy scene at the Floral Pavilion.
Mr Jones sent in the postcard and his new photograph for the Free Press readers to enjoy, and hopefully bring back great memories of the popular Bridlington venue.
Thousands of residents and visitors to the town will have enjoyed a variety of public entertainment events over the decades.
He said: "Facing towards the sea on Royal Prince's Parade, it was constructed with a sturdy cast iron framework that has stood the test of time.
The Floral Pavilion as it is now.
"It is, in fact, deemed to be of special historic interest owing to so much of the original Edwardian edifice having survived, proudly emphasised by its official Grade II listed status.
"Truly, the structure connects a past society with a contemporary culture.
"It was solely intended as a venue for orchestral chamber concerts, and had an impressive capacity of around 2000 people.
"The orchestra was housed in a circa 1860 Victorian bandstand which, in 1907, was incorporated into the Floral Pavilion as part of extension work.
"The bandstand was rebuilt in about 1960 when it was extended further towards the sea wall, but in keeping with the character of the Edwardian architecture.
"This traditional seaside pavilion soon acquired the name Floral Pavilion because of the dozens of beautiful flower baskets that used to hang from its ceilings. What a sight to behold they must have been, and the perfect compliment to the quality music on offer.
"The Floral Pavilion's continued use for public entertainment is a testimony to the care that has gone into its preservation for future generations to enjoy.
"The featured vintage postcard (early colourised style) dates to August 1909 and shows the Floral Pavilion in its original state with open spaces between the decorative pillars and a fine entrance stairway to the right.
"A glance at the modern photographic comparison shows the relative intactness of the original Edwardian exterior but with, of course, the addition of glazed wooden screens.
"The Floral Pavilion has played an integral part of local life for 116 years, entertaining millions of residents and visitors, and will doubtless be a social landmark for many more decades to come."