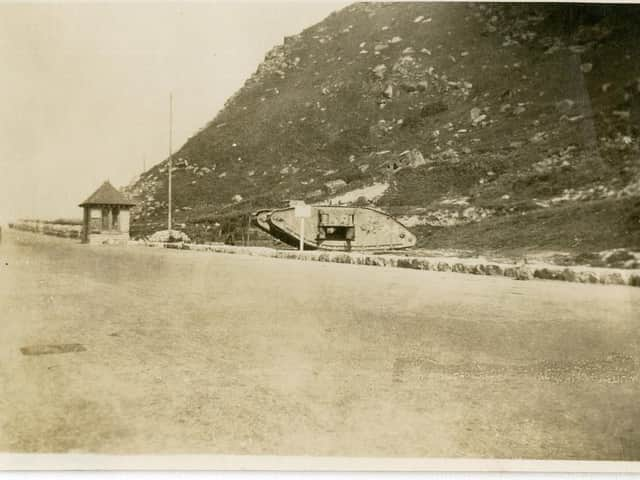 Hairy Bob's Cave behind the tank in 1919
The huge boulder, carved with a door and windows, stands on the town's Marine Drive in the shadow of the headland topped by Scarborough Castle, and has long been an object of fascination for locals and visitors alike.
Its origins are uncertain, but as part of Scarborough Museums Trust's response to closure due to the current coronavirus crisis, collections manager Jim Middleton is posting daily themed images from the Trust's collection of lantern slides, glass plate negatives, photographs and postcards on Twitter.
When he tweeted a photograph of a First World War tank as part of a recent set of images on the theme of war and defence, local musician Anthony Springall was quick to get in touch to point out that Hairy Bob's Cave was in the background, and suggested that it could be the earliest image of it.
Jim said: "No one is really sure who created Hairy Bob's Cave, or why, but the most plausible story is that it was made by the men who built the Marine Drive in the early 1900s; its location is exactly where the goods yard for the build was.
"We'd love to hear from anyone who thinks they might have an earlier image of it.
"The tank is also interesting – it was presented to Scarborough on July 18 1919 by the mayor and mayoress of York on behalf of the Treasury as a token of thanks for all the money raised by the town during the war.
According to a contemporary article in The Yorkshire Post and Leeds Intelligencer 'by three special efforts Scarborough had raised more than £300,000, and had invested war loan and bonds well over a million pounds', which was an enormous amount at the time."
Jim added that the first intention had been to display the tank in the Castle grounds, but it was thought that the roads up to the castle may not be stable enough for the heavy load.
"What became of it, we don't know," he says. "But exposure to sea spray and heavy storms would suggest that it probably rusted in a relatively short time."
Magic lanterns were early image projectors which used a light source to magnify and project images on glass. It was used for both education and entertainment, particularly during the 19th and early 20th centuries.
The Scarborough Collections – the name given to all the museum objects owned by the Borough of Scarborough, and in the care of Scarborough Museums Trust – contains more than 7,000 such slides and glass plates.
You can see the images which Jim is posting daily by following @SMT_Collections on Twitter. And to view existing posts, search #lockdownlanternslides.