Epic coastal adventure via geo-location Odyssey project will entertain both residents and visitors
A geo-location adventure along the Yorkshire Coast has been launched to entertain residents and visitors to the area – taking them on an engaging Odyssey.
Wednesday, 19th May 2021, 9:03 am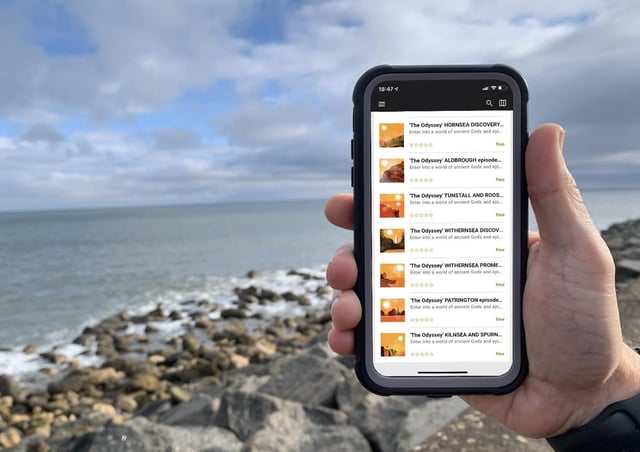 Fishermen, from left, Andrew Sanderson, Frank Powell and Shaun Wingham, pictured at Bridlington harbour. 11th May 2021 Picture : Jonathan Gawthorpe
'The Odyssey – An Epic Adventure on the Yorkshire Coast' is the creation of Scarborough-based theatre company Animated Objects.
The walks project is funded by the Yorkshire Coast BID and creates opportunities for people to discover, explore and enjoy the coast.
The three-year initiative is reinventing Homer's classic works The Iliad and The Odyssey, setting them in the near future with the coast providing the dramatic backdrop for a wide range of activities.
Listeners are invited to enter into a world of ancient Gods and epic battles on their smartphones or digital devices with the story being triggered by GPS when entering a storytelling area.
The scheme will be available in more than 25 different locations along the coast as a free roaming story to be enjoyed at relaxed pace, and with a number of 'discovery trails' in larger towns where chapters lead visitors from one location to another to introduce them to areas they may not have explored before.
The story is available free on the Echoes Interactive Sound Walks app from the App Store or Google Play (Look for walks in your area if on the Yorkshire Coast, or search for The Odyssey by Animated Objects).
The first episode: 'The Gathering Storm' tells the story of how the Trojan wars began.
The story was recorded during lockdown in a number of different locations while observing social distancing rules.
This proved a challenge as individual performers in many cases have never met.
Future events include touring exhibitions, giant puppets, and a world record attempt with the creation of Yorkshire's own version of the Trojan horse.
Lee Threadgold, artistic director of Animated Objects said: "We're really excited to be bringing the first part of the story to people along the coast by geo-location.
"We've written and produced the audio story specifically to be enjoyed in the open air, and we've chosen locations that showcase the natural beauty of this incredible region.
"The Gathering Storm' will be followed in the autumn by episode two, entitled The Trojan Wars."
The walks go live from Monday, May 10.