Lorry crash destroys wall at Anne Brontë's grave in Scarborough's Old Town
A wall next to Anne Brontë's grave has been destroyed after a lorry crashed into it in Scarborough's Old Town.
Watch more of our videos on Shots! 
and live on Freeview channel 276
Visit Shots! now
The large articulated low loader drove along Castle Road before turning into Church Lane and becoming stuck shortly after 2pm on March 20.
As the lorry attempted to reverse out of the narrow street it hit the burial ground wall of St Mary's Church, which is Grade I listed, causing it to collapse.
Cllr Janet Jefferson, who lives in the Old Town and represents Castle Ward, said: "I was really shocked. It's only a year or so since the wall at the other end was damaged. I'm just concerned."
She successfully campaigned for advisory road signs to be installed on Castle Road, Longwestgate, St Sepulchre Street and East Sandgate warning drivers that Old Town's narrow roads are unsuitable for heavy goods vehicles after a woman suffered life-changing injuries in a runaway lorry crash in 2021.
"All exits and entrances are covered with warning signs, you'd think the driver would have noticed as it's a big blue sign as he came up the hill. You would have thought he would realise you can't get down there," she said.
A gate at the corner of the cemetery that provides wheelchair access to Anne Brontë's grave, which was funded by Scarborough Civic Society, has been completely destroyed.
Two headstones that were removed from graves many years ago and leaning against the wall when the crash happened were also damaged as it collapsed.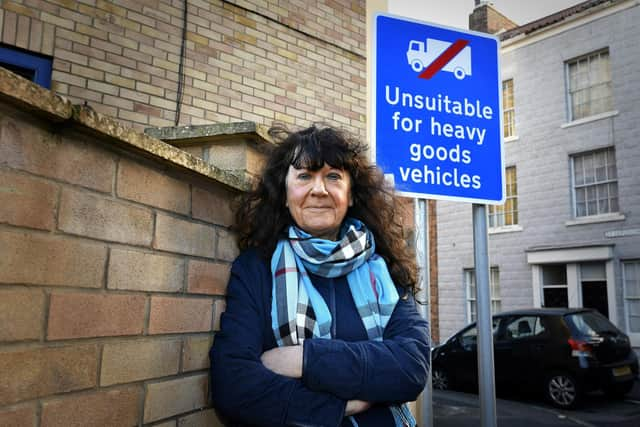 Ian Shimmin, parish administrator at St Mary's Church, scoured CCTV footage from the church and The Rainbow Centre to pinpoint the vehicle which caused the damage.
When he contacted the haulage company responsible, they had already logged the incident and have accepted liability and agreed to pay for restoration work.
"It was a relief when they accepted liability, they were very straightforward and upfront about it," he said, adding: "[The driver] was clearly in the wrong vehicle, in the wrong place."
Cllr Jefferson believes the crash damage could cost between £5,000 and £10,000 and take several weeks to repair.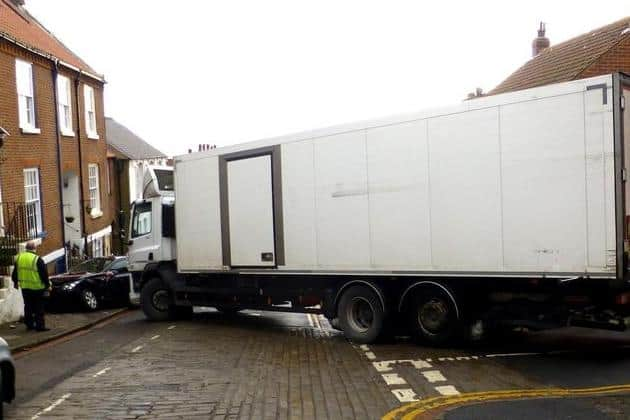 Mr Shimmin is in discussion with the diocese about remedial work to the damaged headstones and the six-metre length of wall that needs to be rebuilt.
"Because it is church property we need to use the same bricks, it can't just be rebuilt with new brick. It has to look how it used to," he said.
Cllr Jefferson said she is going to investigate whether a bollard or another measure can be installed nearby to prevent a similar incident from happening again in the future.
She believes out-of-town drivers rely too heavily on satnav and despite contacting technology firms in the past to update the route as unviable for lorries, it has been to no avail.
"We've got to do something," Cllr Jefferson said. "I was just shocked because it took a long time to get the signs and we've just got to hope that it won't happen again. Thankfully no one was hurt."